The Sun Is Also A Star Hits Theaters
Hang on for a minute...we're trying to find some more stories you might like.
The Sun Is Also a Star, a young adult romance, hit theaters on May 17, 2019. Directed by Ry Russo-Young and with a screenplay by Tracy Oliver, it based on the bestselling novel of the same name by Nicola Yoon. The movie follows the one day romance of Natasha, played by Yara Shahidi, a quantum physics student on brink of deportation to Jamaica, and Daniel, played by Charles Melton, a Korean American poet whose parents are forcing him into medical school. Two New Yorkers meet through a series of coincidences and have opposite personalities; Natasha is a pragmatic quantum physics student hardened by her family's difficulties while Daniel is a romantic poet weighed down by his parents' expectations and cruel older brother's shadow. They know nothing about each other and only have twelve hours together, but they form a deep connection of love. However, Natasha's impending deportation, cultural differences, and the tricky hand of coincidence that brought them together threaten to tear them apart.
The 2019 film opened to mixed reviews and poor commercial success. Competing with movies like John Wick: Chapter 3- Parabellum, it just made $2.6 million in over two thousand theaters. While the cast and the chemistry between Shahidi and Melton were praised, the storyline was criticized for being generic, sentimental, and implausible. "Romance fans comfortable with suspending disbelief will find Shahidi and Melton luminous enough to make this uniquely New York City love story a sweet diversion," wrote Sandie Angulo Chen for her Common Sense Media review.
The Sun Is Also A Star deals primarily with the question of love: how it forms, the science behind it, and whether or not it is worth pursuing. Spoiler alert: yes, always yes. Natasha and Daniel start their relationship arguing over whether science or love is better. Daniel woos her to prove his belief that love conquers all, whereas Natasha is hesitant to start any relationship when she's about to leave the country. Yoon based their persistent philosophical banter on her relationship with her husband, Daniel Yoon.
The film and book have also been noted for the diverse cast and the rare interracial pairing of two characters of color. Yoon is Jamaican while her husband is Korean. Yoon has stated in multiple interviews that she writes diverse, interracial romances to reflect reality and let everyone, especially people of color and immigrants, know that they belong.
Both the book and movie tackle the trials of immigrants, both first generation immigrants trying to create a better life, like Natasha's father, and their children, who grow up completely in the new country. Natasha and Daniel are both frustrated by their parents' demands to be more Jamaican or Korean and, in Natasha's case, her father's failure to make a life for them. Natasha is extremely distressed about the deportation because she hasn't been to Jamaica since childhood and considers herself an American, while Daniel can't get his parents to understand that he is Korean and American and uninterested in the American Dream.
The Sun Is Also A Star remains one of young adult's most popular and acclaimed reads, being a 2016 National Book Award for Young People Finalist. Although Russo-Young's adaptation garnered a more lukewarm reception, audiences and even critics enjoyed the diverse cast, exploration of immigration, and the message about the power of love.
About the Writer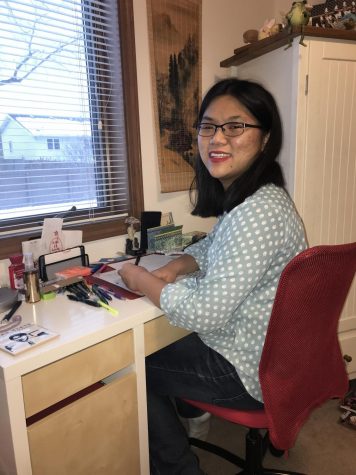 Liana Boulles, Editor
Liana Boulles is a senior at Griffith High School and editor of the Panther Press. She has been on staff since she was a freshman. She loves books, writing,...