MLB Postseason Ends with Nationals Victory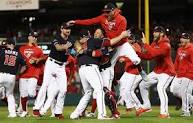 Gabe Colomes, Reporter
November 15, 2019
  The MLB season ended on Wednesday, October 30 with the Washington Nationals beating the Houston Astros 6-2 in game seven. The Nationals, previous known as the Montreal Expos has never won a World Series until now. The Expos moved to Washington, D.C in 2005 and their first pick for the Nationals was Ryan Zimmerman from the University of Virginia.
   Other teams that were in the Postseason were the Minnesota Twins, Milwaukee Brewers, Tampa Bay Rays, Oakland Athletics, New York Yankees, St Louis Cardinals, Atlanta Braves, and the Los Angeles Dodgers.
  For the American League Wild Card game the Rays went to Oakland defeating the A's 5-1 to advance to the ALDS to face the Astros. National League Wild Card was the Nationals beating the Brewers in an exciting Postseason game 4-3. They moved on to play the Dodgers for the NLDS.
For the American League Division Series (ALDS) the Yankees swept the Twins in a five game series, winning the series 3-0. The Rays battled the Astros five games but fell short in game five as the Astros won the series 3-2. 
 Both the Nationals and the Cardinals won both of their series after going five games. The Nats defeated the Dodgers and the Cardinals ended the Braves' season.
  American League Championship Series (ALCS) the Astros defeated the Yankees in a seven game series 4-2 and advanced to the World Series. The last time the Astros won the World Series was 2017 against the Dodgers. 
 The Nats swept the Cardinals in a seven game series 4-0 and advance to the World Series for the first time in their franchise history.