Panthers Triumph in the Regional Cup
Over the winter break, baseball teams around the Region prepared to take on the 2021 season by beginning practices and workouts. Some schools around the area participated in a simulated game tournament, which was done with a system called "HitTrax". HitTrax is a baseball software used by many training places and by some high schools in the area. The purposes of the software are to measure exit velocity, launch angle, distance of hit, point of impact with the bat, play outcome, strike zone analysis, and even give a high speed video with integrated metrics. This advanced technology allows the users to play a simulated game, taking turns hitting like a real game would have.
The Region Cup was an especially great experience for the Griffith Panthers. It gave them a chance to start the season a little bit earlier so they could gauge the competition.
When asked what playing in the Region Cup was like, junior Drew Vrska said, "Playing in the Region Cup was a very fun experience. We did extremely well and defeated many great teams and ended up coming through and winning it all in the end."
The Panthers were led by Vrska, as well as three other teammates. Senior Chad Muller was another Panther who led the pack to victory. Muller had many big hits coming in the late stages of the tournament which also boosted the Panthers to victory.
The Panthers fought against many big name, high-reputation schools. They faced off against Lake Central, Munster, and Andrean in the pool play. Andrean, a long-time rival of the Panthers, usually ends up as victors, as they have in past meetings between the two teams. In the Region Cup, the Panthers triumphed, taking down the Andreas 59ers. Griffith ended up splitting the last two games, which put them into a good spot for the tournament. Griffith faced Valparaiso in the first round, where they came out victorious in extra innings. In the championship, the Panthers faced off against Crown Point. Crown Point led late into the game, and the Panthers tied it up in the 7th with a Muller RBI. In the 14th inning, junior Kyle Atkinson put the Panthers up for good with a RBI double. Griffith defeated the odds and faced off against the bigger schools of the Region where they took the Region Cup.
About the Writer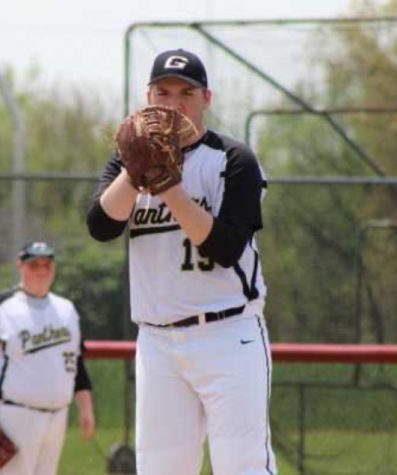 Kyle Vail, Reporter
Kyle Vail is a senior and in his first semester on the Panther Press. Throughout high school, he has played baseball all four years, and basketball and...