"The Lion, The Witch, and The Wardrobe" Takes Viewers to Narnia
Hang on for a minute...we're trying to find some more stories you might like.
The weekend of November 9-11, 2018, marked the performances of the Griffith Theatre Company's fall production, The Lion, the Witch, and the Wardrobe. The Friday and Saturday performances began at 7pm in the auditorium, and Sunday's matinee began at 3pm.
The theater members and directors have worked hard the last few months to make sure this play ran like clockwork. The Lion, the Witch, and the Wardrobe tells a story about four children who go and stay with an old professor during WWII. One day while playing hide and go seek, Lucy, the youngest child, finds a wardrobe which opens a pathway to a magical land called Narnia.
The leads were the four children: Lucy, Edmund, Susan, and Peter, portrayed by senior Emma Loomis, sophomore Kyle Rassel, and juniors Jackie Bobos and Tyler Smith.  "Edmund is a dynamic character who started as a troublesome child and became a sort of hero, which is always interesting to see through someone's development," said Rassel. "However, putting a British accent along with my character was my favorite part about impersonating him." Rassel says that it was great being able to work alongside Smith, Loomis, and Bobos because they were all super encouraging before each performance. Each time he'd make a mistake, they'd fix it like it was nothing.
Sophomore Vincent Zarndt portrayed the one and only Aslan, the godly lion. The evil Winter Witch and her side kick, the Dwarf, were played by junior Kavresha Walls and sophomore Grace Wothke. Freshman Connor Crafton (Fenris Ulf) and Genesis Sandoval and sophomore Harry Pala (Mr. and Mrs. Beaver) and junior Jesse Miller (Tumnus) also made frequent appearances throughout the production.
Behind the scenes, the crews were hard at work. Set crew built the infamous wardrobe and home of Mr. and Mrs. Beaver and Tumnus. Hair and makeup spent hours perfecting each animal's unique look, from complicated hair styles to intense animal makeup. Costume crew provided tails, head attachments, fur, and even fake body attachments constructed of pipes for the unicorn and centaur characters.
Head director of the theater company, history teacher Jenna Parker, presented the idea to reenact this play. She recalled that she was sitting during a lecture one day teaching about WWII, and all of the sudden the idea of this play came to mind. "I absolutely love this play because I read the book as a child, and anyone who knows the story has fallen in love with it. I also thought that it would be an enjoyable and worthwhile production for the theater kids to perform," said Parker.
About the Writer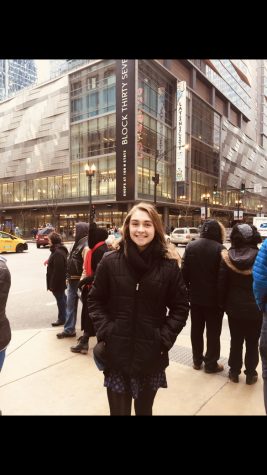 Katie Bilka, Reporter
Katie Bilka is a junior at Griffith High School. She enjoys writing and interacting with her peers. In her free time, Katie is a dancer for the school's...