"All American" Tells a True Football Story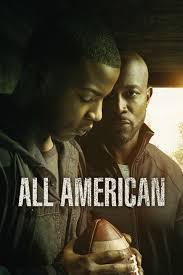 All-American is a popular show that first came out in October of 2018. It is an American Television series that is based off a true story about a professional football player named Spencer Paysinger. The show was created based on interviews with Paysinger himself where he described his challenges in his career. The directors made sure to make it as realistic as they could by having Paysinger on set as a consulting producer for the series. The only difference between the show and reality is that some of the characters and events were altered.
   The series starts off by showing us the life of a high school football star Spencer James, a character played by Daniel Ezra. He is a wide receiver at Crenshaw High School. He describes the rough neighborhood and troubles he faced in South Central Los Angeles, where he was constantly surrounded by drugs and violence. However, he was lucky to escape those conditions when Coach Billy Baker offered him a scholarship for Beverly High School where he began to play cornerback, kick-off returner, and running back. Billy Baker is played by Taye Diggs.
   However, we see that when he goes to Beverly High School he faces some problems. He does not get along with his new teammates, as they had a completely different way of playing than his previous school. 
   A main topic in the story is that Spencer does not know who his father is. This causes him to have problems with Baker's family, after his son begins to believe that Spencer might be their brother, after learning that his father and Spencer's mother dated in high school. His son is Jordan Baker, the starting quarterback for the Beverly football team. He is played by Michael Evans Behling. 
   Throughout the series, we see how Spencer adapts to his school, his new "family", and his football team. 
   Cody Wilkins says that he bonds with Timmy Lawson and Andrew Davenport over this show. All three of them are class of 2019 graduates who now attend Calumet College of St. Joseph in Whiting. "Andrew and Timmy told me to watch it, so I did and I instantly was obsessed with it. I watched the whole first season that same day, spending any free time I had on Netflix," said Wilkins. 
   So far, there are only two seasons. There are four episodes out in season two, with more currently being produced. 
   "It makes me mad that there are only two seasons out right now, because I am so hooked on the show that I just want to know what happens," said Lawson. 
   It is available on Netflix, Amazon Prime Video, and is shown on the CW channel every Monday 7 p.m. CST.