New Netflix Titles to Binge Watch This Winter
Every week, new original films debut on Netflix, Hulu, and other streaming services, often much less fanfare than their big-screen counterparts.
American Son 
Released on Netflix on November 1, American Son is based on a play written by Christopher Demos-Brown, also of the same name. Director of the play, Kenny Leon, returned for the film as does the entire cast out of the play.
On a stormy night, a teenage boy goes missing. His parents Kendra (Kerry Washington) and Scott (Steven Pasquale) end up at the police precinct. Kendra is waiting for a report on the whereabouts of their son Jamal, who has suddenly disappeared. She asks for help from Officer Paul Larkin, a rookie cop who is unable to tell her anything about the incident, due to both protocol and a lack of knowledge of the incident, telling her that he has to wait for Lieutenant John Stokes, the morning shift officer. Soon, her husband, FBI agent Scott Connor, arrives at the station demanding to know where Jamal is. While trying to figure out what happened to their son, they end up reopening old wounds concerning race, fear, and their rocky marriage in the process.
Shadow
Shadow is Netflix's first South African original series, taking place in the streets of urban Johannesburg. It is a six hour, eight episode series that came out on March 8 but was released on Netflix on November 6. The official trailer was released on February 18, 2019.
Shadow follows the life of ex-cop Shadrach "Shadow" Khumalo (Pallance Dladla), a mercenary for hire trying to clean up the streets of Johannesburg while also raising money to care for his paraplegic sister, Zola (Tumie Ngumla). As he eliminates gangsters, crime bosses, and serial killers, Shadrach inches closer to confronting his own demons and tragic loss.
The Body Remembers When the World Broke Open
Released on November 29, this movie favors intimacy and hesitancy over ground-standing as it follows two strangers, one in an abusive relationship and the other trying to help her. Writer-directors, Elle Máijá Tallfeathers and Kathleen Hepburn look at domestic violence, economic inequality, and indigenous identity.The emphasis on stillness and silence might test the patience of some viewers.
The movie follows on the interaction between Áila (Tailfeathers), a First Nations woman with a stable and happy domestic life, and Rosie (Violet Nelson), a more impoverished First Nations woman who has just been a victim of domestic abuse, after they meet in the street.
Dolly Parton's Heartstrings
Heartstrings is an American anthology drama series that premiered on November 22. Each episode is based on one of Dolly Parton's songs. She introduces each song herself and the meaning behind the song that inspired her to write it. The episodes are stand-alone stories, and will have her own cast to go along with each song that is introduced.
On Rotten Tomatoes, this series holds a rating of 60% based on critic reviews, with an average rating of 7.9/10. On Metacritic it has a score of 72 out of 100 based on reviews from 4 critics, and has moved up to thirteenth place on IMDB.
Atypical: Season 3
Created by Robia Rashid, Atypical has came back with a third season as the first two seasons received mostly positive reviews.
Atypical is a coming-of-age series created as a Netflix original. It focuses on 18-year-old Sam Gardner (Keir Gilchrist), who is on the autism spectrum. The first season was released on August 11, 2017, second season on September 7, 2018, and the third season released on November 1, 2019.
Fire in Paradise
Based on a true event, on November 8, 2018, a fire broke out in California near the town of Paradise. Over the course of a few hours, the fire grew into the country's deadliest wildfire in over a century with the footage of the disaster and interviews with survivors and responders,Fire in Paradise retells the survival stories from that day.
These are a few of the new offerings Netflix provided in November 2019. That said, keep in mind that the newly added shows and movies are subject to change and availability.
About the Writer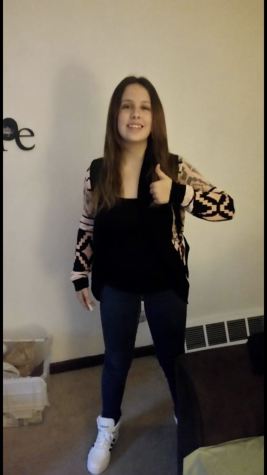 Brianna Langel, Reporter
Brianna Langel is a junior at Griffith High School. This is her third semester on Panther Press. She enjoys writing and interacting with other students...