Little Fires Everywhere: Hulu Adaptation Ignites Conversation About Class, Race, Privilege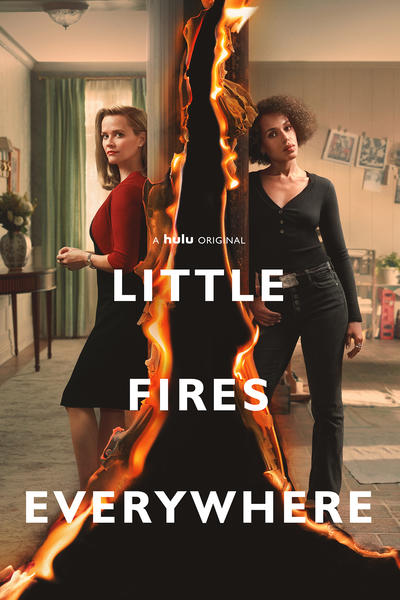 The new Hulu show, Little Fires Everywhere, began premiering on March 18. The Hulu miniseries is an adaptation from author Celeste Ng's bestselling novel Little Fires Everywhere.
In regards to the television series, sophomore Alice Jin said, "It looked very interesting. I haven't read the book based on it, but after watching an episode I want to give it a read now."
The premise of the television show is based on Celeste Ng's 2017 novel that received critical acclaim. The novel is set in the '90s about two families, the Richardsons and the Warrens, from Shaker Heights, Ohio. The wealthy Richardson family appears to be picture perfect on the outside to their peers. The Warren family consists of a mysterious mother and daughter duo with a nomadic past before settling in Shaker Heights. Daughter Pearl Warren is soon enamored by the lifestyle of the Richardsons, while youngest daughter Izzy Richardson is drawn to Mia, Pearl's mother. Mia Warren takes Izzy under her wing and appoints her as her photography assistant. Now that an opposite family member is a part of both families' lives, their fates are soon intertwined as well. Alongside the story, a vicious legal battle unfolds in the town.
After watching the first episode, Jin said, "I really like the episode and starting a new journey with this group of characters. The show is set in 1997, which I like because going back in time adds to the dynamic of the story. I plan to watch the next two episodes soon and continue watching it every week."
The television is co-produced by the two leads: Reese Witherspoon (Elena Richardson) and Kerry Washington (Mia Warren). The rest of the Richardson family is played by Joshua Jackson (Bill Richardson), Jade Pettyjohn (Lexie Richardson), Jordan Elsass (Trip Richardson), Gavin Lewis (Moody Richardson), and Meghan Stott (Izzy Richardson). The actress who plays Kerry Washington's fictional daughter is Lexi Underwood (Pearl Warren). Each actress and actor breathes life into Celeste Ng's fictional characters from Shaker Heights, Ohio.
In regards to a recommendation, Jin said, "The first episode made an impression on me, so I'm definitely finishing the series. I can feel it will be filled with igniting drama that will keep me captivated for the episodes to come. I would recommend this to anyone who likes family drama and encourage anyone interested to watch it.'
Little Fires Everywhere can be watched from the streaming service, Hulu, with a paid subscription. Audiences can binge the first three episodes and continue to watch it every week on Wednesdays, as the rest of the episodes air.
About the Writer
Hannah Hendron, Reporter
Hannah Hendron is a reporter on the GHS staff. She is a junior at GHS; this is her third semester on staff. She feels very lucky to be able to be a part...