Books Everyone Should Read
For my last article, I want to pay tribute to all the books that made me the person I am today and helped me on my journey through high school and newspaper. These are my all time favorites, and this article is one of pure nostalgia and adulation.
Children's
Percy Jackson and the Olympians by Rick Riordan

Percy Jackson and the Olympians was my favorite series growing up and remains a beloved treasure today. It consists of five books, starting with The Lightning Thief and ending with The Last Olympian. It's an amazing series that irreverently reimagines Greek gods, heroes, and monsters in modern America through the eyes of the title protagonist.
Percy starts out as a troubled kid with ADHD and dyslexia. When he discovers that he is the demigod son of Poseidon, he goes to Camp Half Blood, a hidden summer camp for heroes, to train. But a deadly war approaches as the Titans, the gods' old enemies, prepare to storm Mount Olympus, and Percy finds himself the center of a prophecy determining the fate of Olympus. Percy finds himself going on a series of dangerous quests where he battles deities, monsters, and Fate itself as the prophecy unravels. 
Most people praise the books for their hilarity. Percy is an irreverent, sarcastic narrator who uses humor to explain the various myths and does not shy away from how absurd, if not downright disgusting, they are. But what makes the series special are the serious themes of humility, heroism, and family. Percy and his half blood friends struggle with the fact that their Olympian parents are mostly absent yet have no qualms about using their kids to run dangerous errands. The gods' terrible behavior has life altering consequences for half-bloods and mortals, which makes the idea of siding with the Titans tempting. Percy also grapples with his identity as a hero, one that usually ends in tragedy; throughout the course of the series, he learns to reject the violent, cruel legacy of Greek legends like Hercules, instead opting to show mercy and compassion. 
The greatest theme of Percy Jackson, however, is family. Whether it's his single mother trying to protect her half god child, the incestuous and dysfunctional Olympians, or the makeshift family of outcasts and troubled kids he finds at Camp Half Blood, family is central to Percy's journey as a reluctant hero.  
Two sequel series, The Heroes of Olympus and The Trials of Apollo, follow. The first two Percy Jackson books were made into inaccurate, poorly received movies, but a musical adaptation of The Lightning Thief and a recently announced television series on Disney Plus have fans excited. Percy Jackson and the Olympians is a witty, action packed love letter to Greek mythology that holds laughter and tears for kids and adults.
Young Adult
Under a Painted Sky by Stacy Heather Lee
My favorite young adult novel of all time is a combination of Chinese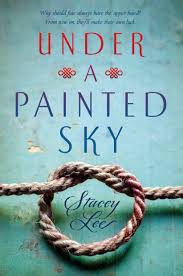 folklore and American western, much like the protagonist's dual identities. The debut novel of Stacy Heather Lee, one of the founders of We Need Diverse Books Movement, is a gorgeous adventure on the Oregon Trail that deftly weaves a multicultural tapestry of friendship, grit, and healing. 
In 1849, a Chinese American violinist and an African American slave head west, disguised as boys, after breaking the law in self defense. They come across a trio of cowboys who teach them how to survive on the Oregon Trail. Sammy and Andy (their male aliases) find themselves falling in love with their new life and the boys, but their secret identities and the bounty on their heads endanger any future on the open trail, which has few places to hide. 
Sammy is a compelling narrator who vividly illustrates the wild landscape, the strong bonds between her newfound friends, and her tender but guilt ridden memory of her late father, whose death set off the story. Amidst the traveling and gritty survival, she takes solace in her Chinese heritage- concepts like Fate and fortune telling- and her new family. Andy is awesome; spunky, determined, but vulnerable, she could just as easily be the protagonist of her own novel. The members of the cowboy trio all have distinct, hilarious personalities that complement the girls as well as frequent moments of tenderness, contrary to the masculine stereotypes of cowboys.  
I read this when I was starting to unpack my identity as a Chinese American girl; although I'd read a few Chinese American books, I never felt so fully represented by a character as Sammy. A Chinese American YA historical heroine who saves the day, plays an instrument, and doesn't hate her culture? I felt like I was finally seen, acknowledged, affirmed as an Asian girl and not a cardboard stereotype. This is the book that inspired me to write about Chinese Americans throughout history and ask for more diversity in the media. Although it's criminally underrated, Under A Painted Sky was a pioneer in young adult and Asian American literature and a turning point for me as a reader and author.
Looking for Alaska by John Green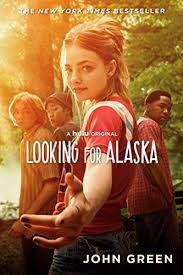 Looking for Alaska is John Green's 2005 debut novel that skyrocketed him to fame, redefined the young adult genre, and has been faced with acclaim and censorship. In 2019, Hulu released an eight episode miniseries adaptation. 
Miles Halter, aka "Pudge," goes Culver Creek Academy, a boarding school in Alabama, to seek meaning in his life- the "Great Perhaps." He meets a group of troublemaking friends: his roommate Chip Martin aka "The Colonel," hip hop enthusiast Takumi, and the beautiful but broken Alaska Young. Pudge gets drawn into their elaborate pranks and finds himself falling in love with Alaska, but everything crashes when a senseless tragedy strikes halfway through the book. 
What makes Looking for Alaska powerful and poignant is the painfully honest take on teen issues: the search for meaning in life, rebellion, friendship, and grief. Rather than pandering to sentimentality, Green portrays his teens as real, flawed people. They cuss, smoke, play pranks, and make bad decisions that will affect them for the rest of their lives. Pudge spends the novel searching for the way "out of the labyrinth," the emotional maze he and the rest of the characters wander through. There are no cop-outs, no easy answers, and no heroes and villains; it's just a story about teenagers trying to come to terms with their lives and actions and ultimately understanding the way out of the labyrinth is forgiveness. 
The Sun Is Also a Star by Nicola Yoon
The Sun Is Also a Star is the best romantic novel of all time. It's a love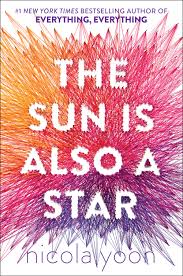 letter to love itself and how it binds humanity together. Yoon was nominated for a National Book Award for the novel, and it was adapted into a film in 2019. The poetic prose induces laughter, tears, and hours of pensive silence as one ponders the science of love.
Natasha, a Jamaican girl, has one day before her family is deported, but she heads to their immigration lawyer in hopes of staying in America. Daniel, the son of Korean immigrants and a poet, is being forced to get into Yale to make up for his older brother's failures. The two meet and have one day in New York City together. One is firmly rooted in facts and science while the other insists on the power of fate. Against all the odds, they find themselves falling in love. But how can the universe bring them together only to rip them apart?
Yoon skillfully weaves a complex portrait of love, realism, immigration, and family. Natasha and Daniel play off one another, their conversations naturally flowing from lighthearted to philosophical and questioning and back again. Both are multifaceted, with histories, family ties, and a yearning to feel at home. Although it would be easy to paint Daniel's traditional parents as stifling and Natasha's father as a deadbeat, Yoon gives everyone a voice. She inserts vignettes from the supporting characters' perspectives, from parents to passersby on the street, all pondering the meaning of love and home in their lives. 
A simple lesson- love is everything- and cliche story- one day in New York- are transformed into a realistic, heart wrenching love saga that lasts only a day but feels like a lifetime.
To All the Boys I've Loved Before Trilogy by Jenny Han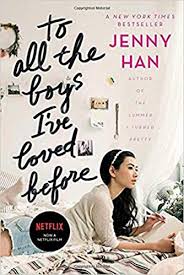 Teenage girls have a hard time in literature. They are often portrayed as needy, melodramatic, vapid, ignorant, and rude. Sexist stereotypes like the mean cheerleader, the school slut, and the "I'm not like other girls" type persist. Minority, disabled, and LGBT women are usually relegated to side characters or left out altogether. I am aware that the young adult genre is dominated by female authors and has made huge strides in diversity and representation, that there are countless exceptions, but it still has a long way to go. 
The options for female protagonists are often limited to the romantic interest or the strong heroine who doesn't need anyone. Too many authors- mostly adults who think they know teens- assume that empowering young girls means telling them that they can either be emotional, feminine, and weak or stoic, athletic, and strong. Bella Swan or Katniss Everdeen. It's not like teenage girls can be complicated and multifaceted, that they can like makeup and clothes and still save the day. 
This is why To All the Boys I've Loved Before is so refreshing. Lara Jean Covey, a biracial Korean American girl, writes love letters to her crushes and keeps them as a memento. When her letters get sent out, she enters a fake relationship with Peter, a popular boy at school, to ward off Josh, another letter recipient and her sister's ex-boyfriend. It's a fresh spin on a cliche romantic comedy that stands out from the crowd. 
Lara Jean is a strong heroine with an authentic voice and fleshed out character. She has an active life outside of her boyfriend that includes taking care of her father and two sisters, volunteering at a nursing home, and preserving the memory of her late Korean mother. She loves baking, dressing up, and crafts, but that doesn't make her any less strong. She constantly offers the audience and her friends her sentiments on love, crafts, movies, and life's moments. Unlike most teen books, her voice sounds like a real girl is talking: awkward, rambling, yet profound. 
The relationships in the books, both romantic and platonic, are believable. Although the fake dating situation isn't realistic, Lara Jean and Peter ask themselves what they want in love, which is something all teenagers grapple with. They're one of the healthiest couples in teen literature because they communicate their feelings honestly and go out of their way to appreciate each other. In a world where countless teen books portray toxic behavior like possessiveness, gas lighting, and shunning as romantic (ex: Twilight), To All the Boys I've Loved Before is a breath of fresh air. Lara Jean also has close ties with her sisters, a wild best friend who isn't shamed for her provocative nature, and a former friend turned rival who has a surprising layer of complexity. To All the Boys I've Loved Before is a coming-of-age/romance that actually understands teenage relationships and the complexity of the misunderstood teen girl's mind. 
Adult
Pachinko by Min Jin Lee
National Book Award Finalist Pachinko is a family saga about a Korean family that emigrated to Japan in the 1930s. With elegant, direct prose, Pachinko is a modern Victorian novel about the lives of immigrants, families, and lovers who find and lose their fortunes throughout history. It starts with my favorite quote of all time: "History has failed us, but no matter." 
Innkeeper's daughter Sunja becomes pregnant by Koh Hansu, a powerful man who turns out to be married. She weds Isak, a sickly pastor who stays at the inn, and moves to Osaka to raise the child with his family. The rest of the novel details the exploits of four generations of one family from 1910 to 1989. 
Every character is unique and has a complex web of motivations, relationships, and beliefs. The thoughts and problems of relatives, friends, and children are all examined in empathetic detail. With its giant cast, vast scope, and one tragedy after another, Pachinko could have easily turned into a soap opera, but its pragmatic tone keeps it authentic as the author examines the consequences of each choice/event and how one leads to another.  
The book's name comes from a popular Japanese machine game that is similar to pinball; the Korean Japanese have a long history with the pachinko industry, as it was one of the few profitable trades open to them. Pachinko is a game of chance that the player almost never wins, yet Japan still spends $200 billion on it every year. Just like immigrants, who sacrifice everything for the chance that their children might have a better life in the new country. Whether you're Korean, Japanese, or some form of other, Pachinko is a masterful tribute to immigrants and parents everywhere and the sacrifices they make to give the next generation a better life.
 Apple TV+ will be adapting the massive epic into a television series.
Interpreter of Maladies by Jhumpa Lahiri
Jhumpa Lahiri's debut short story collection is delicate, thoughtful, and concise. Nine short stories examine the lives of Indians and Indian Americans, from a struggling marriage to a Bengali refugee to a white woman having an affair with an Indian man. It's impressive how Lahiri packs so much symbolism, characterization, and culture in one paragraph. Interpreter of Maladies won the 2000 Pulitzer Prize for Fiction and has become a staple of South Asian American literature. It's a wonderful glimpse into the lives of peculiar, lonely people.
Big Little Lies by Liane Moriarty
Big Little Lies is a drama and a mystery, best known for its HBO adaptation. It starts with a mystery: someone is killed at a school trivia night, and the only clues we have are comments from parents of kindergartners at the event. Everything started six months before the trivia night with three kindergarten mothers: Madeline, a fireplug whose older daughter favors her stepmother; Celeste, a seemingly perfect woman whose husband abuses her; and Jane, a single mother with a dark past and whose son is accused of bullying.
What makes Big Little Lies intriguing is not the mystery of who died on trivia night, but the wry humor and the authentic portrayal of imperfect families shaped by abuse. All three mothers struggle with judgement from other parents, but they are determined to give their children the best life possible. Jane's trauma and Celeste's domestic abuse storylines stand out because of how authentically they are portrayed; Jane, a victim of sexual assault, spends her time fretting that her son will become like his father and questions if she truly has moved on, whereas Celeste debates whether she should leave her husband and break up their otherwise perfect life. The women of Big Little Lies are complex, witty, and human in this empowering comedy of errors. 
Little Fires Everywhere by Celeste Ng
Celeste Ng's sophomore novel is a dissection of privilege in the wealthy, progressive suburb of Shaker Heights- Ng's hometown. Often hailed as the next Big Little Lies, it starts with a disaster and travels back to the series of events leading up to this. Its core dichotomy is between two mothers: Elena, the rich and respectable mother of four, and Mia, a single mom and vagabond artist who's renting from Elena. As their children play together, Elena and Mia butt heads over a custody battle between their respective friends. Twisted family dynamics, deadly secrets, and the burning question- what makes a good mother?- culminate in a firestorm. 
Little Fires Everywhere is a complicated story that could easily spiral into a moralistic sermon about race and class. However, Ng maintains a delicate balance between keeping all of her characters relevant and sympathetic while pointing out the flawed illusion of progressiveness Shaker Heights lives in. The writing is smooth and empathetic, the emotions raw, and the stakes high. 
In 2020, Hulu released a miniseries adaptation starring Reese Witherspoon, also the star of Big Little Lies, as Elena and Kerry Washington as Mia. Both the novel and series have received acclaim for the hard questions they ask and nuanced portrayals of women and mothers.