"Chemical Hearts" Stole Our Hearts
The most recent book-to-movie adaption released this year, titled Chemical Hearts, is based on the novel Our Chemical Hearts, written by Krystal Sutherland. The movie went straight to on-demand on Amazon Prime Video as of August 21.
The narrative follows Henry Page (Austin Abrams), a mundane high schooler who hasn't experienced his first love until his world collides with a mysterious girl, Grace Town (Lili Reinheart). Grace Town is a transfer student from a neighboring town who has an unkempt appearance including a cane she uses for her limp. They are paired up to be editors on their high school newspaper staff, but on one condition: she won't write any stories. Henry Page has had a lack of experiences that have left him confused until his relationship with Grace evolves. Grace's past still lingers complicating her emotional wants and needs in her relationship with Henry. As the story progresses, Henry tries to recover the fragments of Grace's past self, but Grace realizes that she may not want him to do that.
In regards to the film, junior Cynthia Matos said, "I really enjoyed the film when I watched it. The story between the two characters was interesting to watch as it began and unraveled. I thought it was pretty realistic."
The two leads of the film are Austin Abrams and Lili Reinheart, who both portray such authenticity to their characters. Austin Abrams has an array of works, but most notably starred in Euphoria, Scary Stories to Tell in the Dark, and Brad's Status. Audiences may recognize Lili Reinheart from her well-known performance as Betty Cooper on the hit CW show Riverdale and her role in Hustlers. The supporting actors and actresses of the film include Kara Young (Lola), C.J. Hoff (Murray), Sarah Jones (Sadie), Adhir Kalyan (Kem Sharma), Bruce Altman (Toby), and Catherine Curtin (Sarah). These characters help expand the story revolving around primarily Henry and Grace, with Henry telling the story from his perspective.
Readers who loved the original work by Krystal Sutherland can expect to find similarities between the scenes of the novel and the movie. The beloved characters they've read about from the ink on their pages can now be seen from their T.V. screens. Every reader may not love the film, but the movie does do a good job of sticking to its original source material. That may be due to the fact that Krystal Sutherland was an executive producer on the film. A book-to-movie adaption can be a hit or miss, but fortunately, Chemical Hearts is a hit and could not be missed.
In regards to having read the book, Matos said, "I haven't read the book, so I can't comment on whether it's a good adaptation or not. After seeing the movie though, it really interested me enough to want to pick it up and read the book. Hopefully, I'll be able to read it soon and then rewatch the movie to see if it lived up to its source material."
This heartbreaking story depicts two characters stuck in "teenage limbo" where childhood innocence has been lost, but the experience of adulthood has not transpired, as character Grace Town would've stated. Chemical Hearts is exclusively available on Amazon Prime with a subscription to the platform.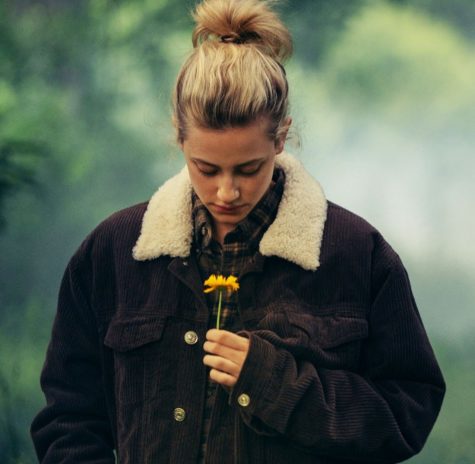 About the Writer
Hannah Hendron, Reporter
Hannah Hendron is a reporter on the GHS staff. She is a junior at GHS; this is her third semester on staff. She feels very lucky to be able to be a part...