You Season 3: The Verdict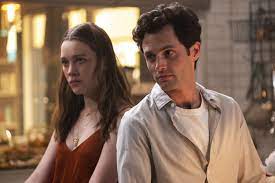 The third season of the successful Netflix show You premiered on October fifteenth. Joe Goldberg and Love Quinn now reside in a wealthy suburb outside of San Francisco while trying to maintain their nuclear family image. Unfortunately, the people of Madre Linda will soon uncover the darker truth of the couple next door.
In the finale of the second season, Joe was utterly shocked and revolted by Love's strikingly similar personality that he was going to kill her until he learned she was pregnant. To do what's best for the baby, they ventured to Madre Linda to build a life until old tendencies became familiar once again for the married couple. A life with a baby did not prevent those old patterns only this time the baby is along for the wide ride of a murderous life in the suburbs. The cracks of the relationship between Love and Joe are evident as they both understand the only reason Love is alive is because of baby Henry. To say that is not the best foundation of a marriage is an understatement and leads them to couples' counseling. Their time in Madre Linda is certainly challenging as the town is populated by two-faced individuals, but certain individuals become more acquainted with them than others. The balance of home life, dark secrets, and maintaining a public image is enough to keep them busy until it escalates in a question of who will survive in a marriage with two impassioned murderous individuals.
The new season did not shy away from exploring the dynamic of the marriage between Joe and Love. It authentically showcased two people in a relationship with deep insecurities, specifically being afraid to truly let others see them in fear of abandonment. It was interesting to see how the baby would factor into whether or not they controlled their impulses and old tendencies, which is quickly answered in the first episode. I found the first half of the season to be very enjoyable as it played with my expectations of what to expect in their relationship dynamic. I wish the writers had gone a different direction for the second half as I felt it was a bit repetitive. I will say that is seems to reflect the tendency of individuals like Love and Joe to not exactly change and go back to their old patterns. All season it feels like the secrets and coverups from Love and Joe will work their way into their white picket fence of pretend and unravel it all. A strength of the season is to see how they handle the messy situations they get themselves into while keeping up their Madre Linda appearance. There are great moments of tension that result from this, especially from a certain storyline that is carried throughout the entire season. I wasn't entirely happy with the ending as I mainly felt they could have made the opposite decision that could have left a greater impact on the story moving forward. Next season will face the challenge of providing a hook for the audience to become engaged again.
All the cast give stellar performances throughout the entire season. Penn Badgely has perfected Joe's mannerisms alongside the narration of his growing obsession for a specific woman. Victoria Pedretti shines in conveying Love's emotions with a single look while bludgeoning someone who hasn't gotten on her good side. The supporting cast has great chemistry with the leads and lends to interesting relationship dynamics. Tati Gabrielle is fantastic in her role as Marienne when depicting a strong woman who faces a tough custody battle with her influential news anchor ex. Dylan Arnold introduces us to lovable Theo who catches feelings for a certain woman and can't help but express those feelings to her. Influential couple Sherry and Cary of the suburb are brought to life by Shalita Grant and Travis Van Winkle who introduce a new side to the marriage of Love and Joe until it goes horribly wrong. The season would not have been as good without all the talented newcomers who brought the citizens of Madre Linda to life.
A fourth season was green-lighted by Netflix days before the release of season three. As always, the season finale left audiences a lot to digest after Joe and Love's stay in Madre Linda. It will be interesting to see how the writers will continue the story in a fresh direction without repeating past storylines.