"Crazy Rich Asians" Celebrates Representation in Hollywood
Rom-Com Brings Asian-American Voices to the Big Screen
Hang on for a minute...we're trying to find some more stories you might like.
   On August 15, Crazy Rich Asians hit theaters and quickly rose to the top of the box office office, remaining the highest grossing film for three consecutive weekends and still going. Based on the bestselling novel of the same name by Kevin Kwan, it's a classic Cinderella story of a normal girl swept off her feet by a fabulously wealthy man who spirits her away to a seemingly magical world where anything can happen. This is nothing new for romantic comedies, but when it boasts a cast, director, and writer, all of Asian descent in a time where Asians struggle to see themselves portrayed in Hollywood, Crazy Rich Asians makes a big splash for representation.
   The story is centered around Rachel Chu, portrayed by Fresh Off the Boat's Constance Wu, a Chinese American economics professor who is in a relationship with Nick Young, played by Henry Golding. Nick convinces her to accompany him to his friend's wedding in Singapore, where she can meet his family. But what he doesn't tell her is that the Young clan is one of the richest families in the country, with lives of jaw-dropping luxury and a strict code of family loyalty. Furthermore, he's the heir to a real estate empire and is expected to one day return home for good to take over the family business. Rachel finds herself unprepared for the media scrutiny, the lavish lifestyle, and the animosity of catty society girls who want Nick for themselves. To top it off, Nick's domineering mother and matriarch of the family, Eleanor (played by Michelle Yeoh), disapproves of Rachel and refuses to accept her as a potential daughter-in-law.
   Crazy Rich Asians is the first all Asian-American Hollywood production in twenty-five years since the Joy Luck Club. Along with Wu, it sports a large ensemble cast of various Asian stars, including Glee's Harry Shum Jr., comedian Nick O'Yang, and rapper Awkwafina. Jon M. Chu served as the director. Kwan claimed that multiple producers wanted to whitewash the story by turning Rachel into a white woman. He firmly insisted on keeping the story Asian.
   However, no rose is without its thorn. The film has been condemned for setting the story in Singapore, where the Chinese elite oppress the Malaysian and South Asian minorities. These peoples do make appearances in the film, but only as servants to their Chinese co-stars. Additionally, Awkwafina's performance upset black activists on social media, since it consisted of her imitation of a sassy black woman. Golding's casting attracted opprobrium, as Golding is only half-Asian when the part could have gone to a monoracial Asian actor. Even Asian-Americans worried that the film might perpetuate the false stereotype that Asians are automatically affluent and successful. Many felt that the only Asians being represented were the Chinese.
   Triumphs and blunders aside, Crazy Rich Asians is an important moment in Asian-American Hollywood history, as it pushes the issues of diversity and proper representation for Asian Americans into the spotlight. The fact that it broke box office records, holding the top for three weekends, and garnered critical praise destroy Hollywood's trite excuse that Asian-American films don't make money. The actors, director, and author have all lobbied for better treatment of Asians in the media throughout their burgeoning careers, and they are joined by the voices of myriads. Numerous Asian-Americans said that this was one of the few films they felt comfortable bringing their immigrant parents to. Hopefully, in spite of its faults and offenses, Crazy Rich Asians will open the door for more Asian American representation. A sequel, China Rich Girlfriend (based on Kwan's second book), is rumored to be in the works.
About the Writer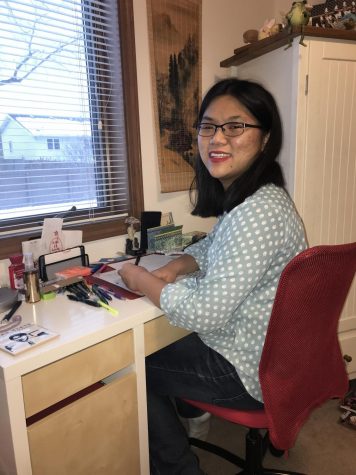 Liana Boulles, Copy Editor
Liana Boulles is a junior at Griffith High School and copy editor of the Panther Press. She has been on staff for three semesters. She enjoys writing and...