FCCLA, Best Buddies Bring Students Closer, Benefit the Community
Here at Griffith High School, the students have many ways to be involved in community service. Two clubs that work to make a difference in peoples lives is Family, Career, and Community Leaders of America (FCCLA) and Best Buddies. Both clubs take part in events that help people in need.
FCCLA is entirely based on community service. Every meeting involves talking about and planning the upcoming service events. Every month, a new event is held. Some are planned as field trips while others are over the weekends. Last year, the members of FCCLA went to the Humane Society with donations and helped move rocks into the dogs play area. Later in the year, they also took a trip to a nursing home to reverse trick-or-treat on Halloween. They dressed up in costumes and brought candy to the residents living in the home. After they left the home, they went to get food from places such as Chipotle and Potbelly's.
Members also get points for each meeting and event they attend. The points add up over the course of the year. At the end of the second semester, the members with at least 25 points are invited to attend a surprise event. Last year, the members with enough points took a trip to Hollywood Boulevard Cinema in Woodridge, Illinois. There they were served food and drinks at their seats as they watched a movie. The year before that they went to Dave and Busters to enjoy the arcade. Overall, it is an award for the service throughout the year.
A significant event that every member must attend is Dancing with the Panthers. DWTP is an annual event planned by the members of FCCLA. Each year, a nonprofit organization is chosen to raise money for. Each member of FCCLA must either make or join a team. Teams can vary from as little as two people to sixteen people. The teams are required to raise at least $200. Teams choose colors and work to be the top fundraising team. The top fundraising team receives a prize.
Family and Consumer Science teacher Sara Novak sponsors FCCLA. She took over this club four years ago. "I chose to run FCCLA because I enjoy helping others. I also enjoy helping students develop their sense of community and their passion for helping others," said Novak.
This year the officer positions include senior Stephanie Lester as president, junior Mary Cox as vice-president, junior Paulo Chur as public relations director, and senior Serena Duran as artistic director. Applications for photographer are currently being considered.
Best Buddies is a nonprofit organization that consists of Griffith High School student volunteers that pair with a buddy that has an intellectual or developmental disability. According to bestbuddies.org, it is known as the "world's largest organization dedicated to ending the social, physical, and economic isolation". Special Education teacher Melissa Diekelmann decided to create a Best Buddies chapter here at Griffith High School. "I saw a lot of isolation between her classes and the general education students. She hoped to diminish the isolation by creating friendships between them," said Diekelmann.
Members of Best Buddies can choose to be either a peer member or an associate member. Peer members are paired with a buddy. They are required to hang out with their buddy at least once a month and contact them frequently. They host an event at the beginning of the year to allow for members to meet and get to know the buddies. After learning more about the members, the officers work to find the best pairs. The members find out who their buddies are at the annual match party. Associate members just have to attend the events and meetings.
The big event of the year that all members must attend is the Best Buddies Friendship Walk. The goal of the walk is to independently raise money. The money raised also goes towards each team's total amount of money raised. The hosts of the event gives awards to the top fundraising team, top fundraising individual, and the spirit stick winner. This year, the goal is to raise $20,050.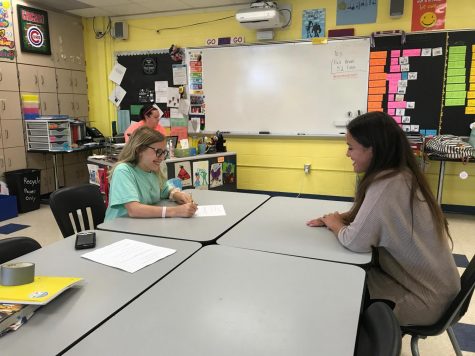 Every year, the event is held at a different location. Schools such as Crown Point, Munster, Highland, and more attend the event. This year, the event will be held at Wicker Park in Highland, Indiana. The Best Buddies Friendship Walk is a time to celebrate with the buddies and other buddies from all around Lake County. This year's date is to be determined.