"The Hate U Give"-A Powerful Teen Drama
Hang on for a minute...we're trying to find some more stories you might like.
The Hate U Give is a 2018 American drama film released on October 19, 2018 and directed by George Tillman Jr. It is based on the 2017 novel written by Angie Thomas. The film stars Amandla Stenberg, KJ Apa, Russel Hornsby, Regina Hall, Algee Smith, Lamar Johnson, TJ Wright, Sabrina Carpenter, Common, and Anthony Mackie. The film follows the fallout of a high school student (Starr) who witnesses a police shooting.
Starr, portrayed by Stenberg, is a 16-year-old African American girl, who lives in the poor neighborhood of Garden Heights, California. She attends a predominately white private school, Williamson Prep. One weekend, while attending a party, a gun goes off. Starr is driven home by her childhood best friend, Khalil, portrayed by Smith. On their way home, they are pulled over by the police. The officer has Khalil exit the car. While outside of the car, Khalil reaches inside the car to grab his hairbrush, ignoring Starr's warning to stay put. As a result, Starr witnesses the fatal shooting of Khalil at the hands of the police.
Khalil's death becomes major national news. Starr's identity as a witness is kept a secret. This secret isolates her best friends, Haley, played by Carpenter, and Maya, played by Megan Lawless, and her boyfriend Chris, played by Apa. It begins to weigh on Starr, as does her need to keep her Williamson Prep and Garden Heights personas separate.
Facing the pressure from all sides of the community, Starr must find her voice and stand up for what's right. After a grand jury fails to indict the white officer, Garden Heights erupts into peaceful protests and riots. The failure of the criminal justice system to hold the officer accountable pushes Starr to take an increasingly public role, including speaking out during the protest, which is met by policemen in riot gear.
The film was suspenseful and kept the audience on the edge of their seats. It addressed a lot of racial political issues that we have today, such as the discrimination of cops against African Americans. They not only addressed the discrimination of cops but also shed light on the way that African Americans can be at war with each other, and asks the question of how could they expect to get respect of cops when they don't respect each other. This film helps opens the eyes of the viewers to the problems that many African Americans must face.
About the Writer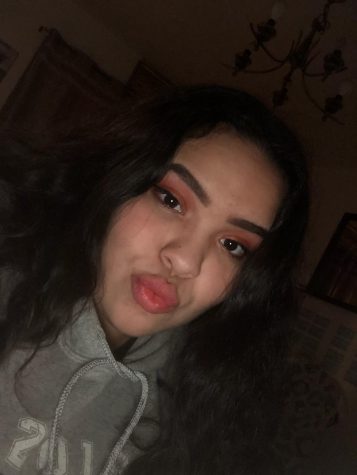 Victoria Martinez, Reporter
Victoria Martinez is a senior at Griffith High School. This is her 7th semester on staff. She enjoys being on staff because she enjoys bonding with her...