Athletes Committing to Colleges
Andrew Braddy, Reporter
May 22, 2019
With spring sports wrapping up in a few weeks, another sports season at Griffith High School is coming to an end. This year, six student athletes have officially signed to continue their athletic and academic careers in college after making a positive impact for their respective teams at Griffith.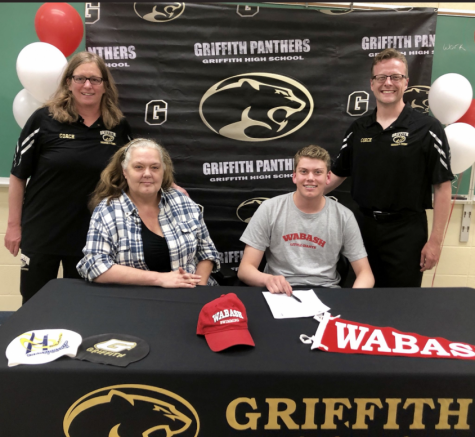 In swimming, senior Richard Damron has committed to swim at Wabash College. Damron was a leader for the Panthers swim team this season and broke his own school record for the 50 freestyle by posting a lap time of 22.25 in sectionals. He plans to break several more records for the Little Giants in the next four years and continue to represent Griffith well. "Being able to continue my swim career at Wabash is a great opportunity, and I'm extremely fortunate to be able to continue to swim," said Damron.
For the boys' soccer team, senior mid forward Cameron Starks has committed to further his soccer career at Indiana University Northwest after a very successful four years at Griffith. Starks was a team captain for the Panthers this season and was third on the team in total points scored with eight and one game winning goal for his team. "I had a lot of memorable moments these last four years playing soccer for Griffith, and I'm going to miss playing side by side with my teammates, but I'm excited for what the future has in store for me at IUN," said Starks.
The Panthers' football team had senior defensive linemen Cesar Valdez and senior quarterback Josh Peterson commit to North Park University in Chicago to continue their careers on the gridiron. Valdez was selected a captain by coach Ben Geffert. He was second on the team in tackles with 57 and led the team in sacks with four. "My ultimate goal was to help my team win and make a significant impact every game on defense, and I'm going to have those same goals at North Park," said Valdez.
Peterson started the year for the Panthers as the teams' starting quarterback and was 4 for 11 passing with 52 rushing yards and a rushing touchdown, but unfortunately, injuries derailed his season. He ended up transitioning to cornerback at the end of the year after he returned from his injuries and recorded six tackles. "North Park felt like the perfect fit for me based on how the coaches treated me when I visited them, and I heard positive feedback from people around me who've been around the program," said Peterson.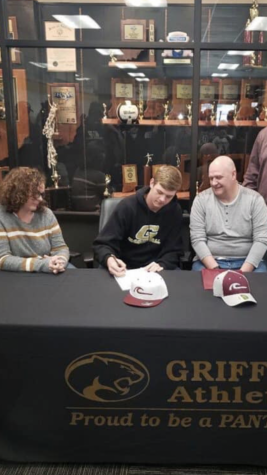 For the Griffith baseball team, senior first basemen Andrew Davenport has signed to play college baseball at Calumet College of St. Joseph. Davenport is hitting .266 for the Panthers and has 16 runs driven in this season. He also hit .308 last season with nine doubles which was second on the team. Davenport is a tri-athlete who also played football and basketball for Griffith and was an all-state football player this year as well. "I'm excited for the opportunity to continue to play the game I fell in love with at a really young age, and I'm grateful for the chance that CCSJ has given me," said Davenport.
Another player for the Griffith baseball team has also signed to play college baseball next season, senior outfielder/pitcher Johnny Maynard has committed to play at Lincoln Trail Community College. Maynard has been a force for the Panthers since he was a freshman as he's been a four year varsity starter. He was voted team MVP by his teammates last season and was also voted a team captain this season. Maynard has an earned run average of 2.12 on the mound this season and is third on the team with a .404 batting average. He also leads the team with 35 runs batted in. "Its been an honor to play for this school the last four years and I'm looking forward to playing college baseball so I can continue to get better," said Maynard.
All six of these student athletes have exemplified what it has meant to be a student athlete at Griffith High School the last four years and have all excelled in their respective sports as well as in the classroom in order to get this far. They will now all hope to continue to achieve excellence and reach their goals outside of Griffith High School.