Cross Country Runs At New Prairie Invitational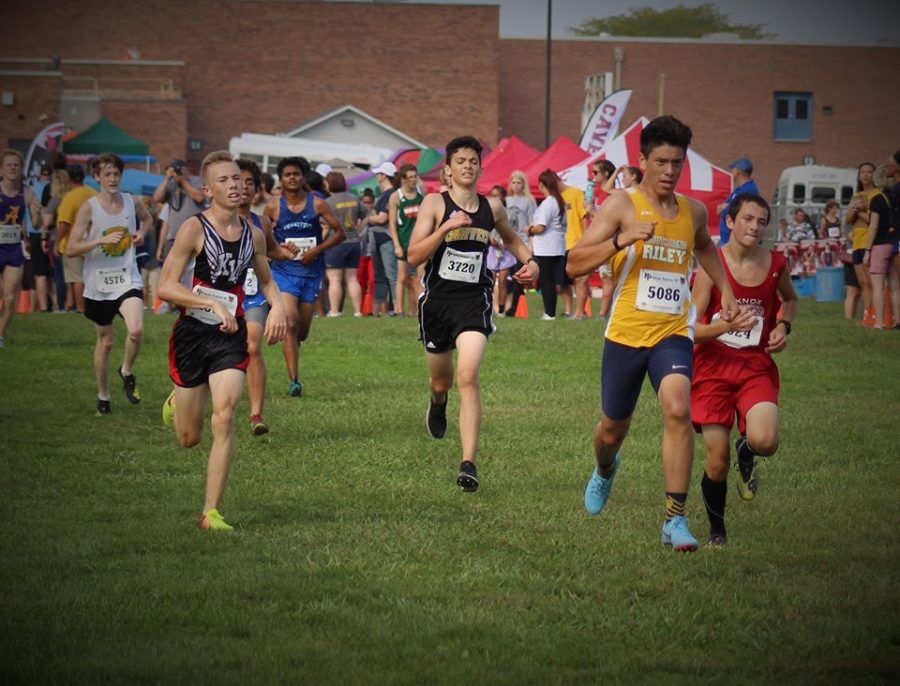 Liana Boulles, Editor
October 2, 2019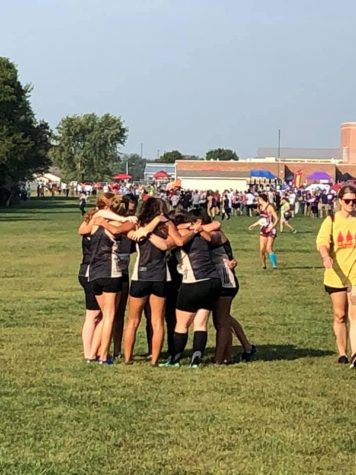 On September 21, Griffith Boys and Girls Varsity and Boys and Girls Junior Varsity Cross Country teams headed to New Prairie High School for the annual New Prairie Invitational, the largest cross country conference in the state. New Prairie has held this conference for 57 years, with over 105 teams from schools all over Indiana and even some from Illinois and Ohio in attendance. Nine races for each team (ex: Girls Junior Varsity,  Boys Varsity) were held, starting with Girls Varsity. Griffith competed in Class 2A, the division for schools with 500 to 1000 students.
The GHS team left the school at 6:45 a.m. on Saturday, fifteen minutes late of their intended departure. After a quiet hour-and-a-half drive to New Prairie High School, they set up a canopy tent with senior posters at a designated spot, started warm ups, which consisted of stretches and run-outs, and finished with a team huddle and cheer.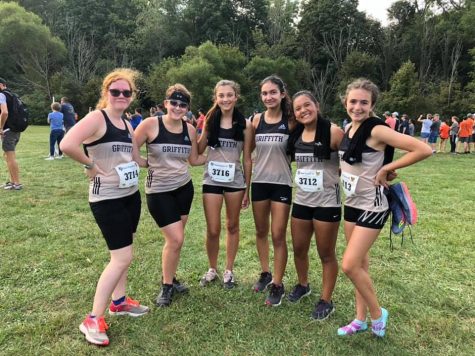 "New Prairie is not a personal record course," said senior Sarah Thomas of Girls Varsity, is 7⁄8 position on the team. "It's a fun meet, not meant to be taken too seriously. But if you run your best there, that is impressive because it is such a difficult course. This is a semi state [level] course."
The course consisted of the Snake Pit, a steep, narrow, and winding ravine, Agony Hill, a high steep hill, and several foothills. New Prairie' marching band drum line beat out a cadence at the starting line.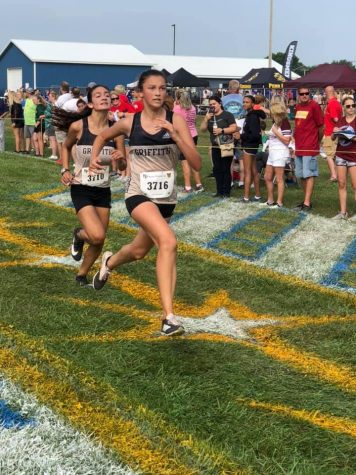 "We don't tell freshmen or new kids about Agony Hill; it might psyche them out," said Thomas. "We say to enjoy [Snake Ravine] because you have so much momentum you can run on the walls, especially if you're in the big pack [of runners]. It's pretty effective for passing people. The foothills are not that bad; they give you more momentum. My time wasn't too far off from last week, maybe by thirty seconds, which seems like a lot but isn't that much [considering the heat and difficulty of the track]."
Junior Jonathan Baxter of Boys Varsity came in sixth place out of approximately 200 runners. Cross country coach Shannon Scheidel hopes that he will advance to regionals and possibly state after sectionals.
"We have sectionals on October 12," said Scheidel. "Overall we did as best we could. The team's like a family; they're very close. I have high hopes, especially for Jonathan."
Cross Country's conference is October 5.