"I Remember Mama" Dazzles Griffith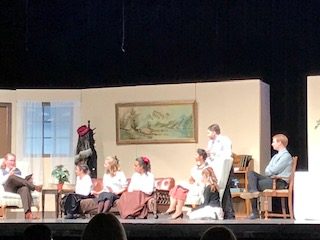 On November 8th, 9th, and 10th, the Griffith Theatre Company performed their take on a classic story, I Remember Mama. This play, as with any other performance from the Griffith Theatre Company, brought along audiences young and old to come together for this performance, but it didn't all come naturally.
             Several actors of this play faced a difficult challenge: foreign accents. Balancing the accent with memorizing the lines was difficult for some, such as senior Jesse Miller, who played Papa, "Learning a Norweigen accent was hard at first, but it was a lot of fun to practice. I got better at it quickly."
            The other difficult part of this show, as of any show, is everything behind the scenes. Making the costumes and makeup time-period appropriate for a show set in the 1910s is more difficult than it may seem. Senior Esther Rossi, head of the Griffith Theatre Company's hair department said, "It was hard to make all of these different old hairstyles look good, but I thought it was fun to try something new for some people."
 The 1920's aesthetic wasn't the only behind the scenes challenge, though, as balancing the sound and lighting for a live performance was also be quite difficult. Knowing when the correct cues are for actors is tough, but doing so for every person and scene was the sound and light department's job, an integral part of the experience. Light, sounds, and set director Jim Graff said that it was a simpler job compared to a musical, but the sound board wore out and had to be replaced with a borrowed sound board from a parent.
            Of course, the technical aspect of a live show is always impressive, with students having to man the lighting, sound, costume, set, and everything in between, but in the end they all come together to bring the characters to life. The Griffith Theatre Company's next performance, which the middle schoolers all showcase their skillsets in a variety of one-act plays, debuts in early February.