National Honors Society Spreads Holiday Cheer
Recently, NHS members took part in a yearly event which they call "Spreading the Cheer." Members spread the cheer to a Griffith teacher by being their "secret santa" for the week. Throughout the week, students must decorate their door and bring a Christmas card, handmade ornament, and small gift, respectively, each day of the week. After spreading the cheer all week, the students and teachers had a breakfast on the last day to eat. There, the teachers were able to meet and take pictures with their secret santas.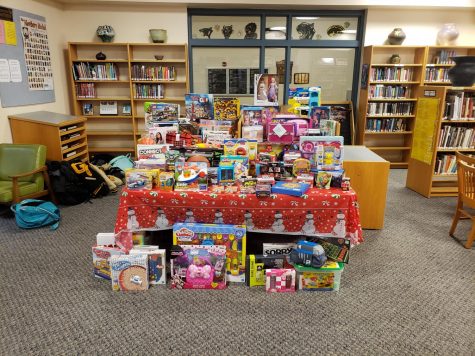 National Honors Society is a nationwide club for high school students in the United States which selects students based on their excellence within their academics and service to their communities. To even be considered to join NHS, students must have a GPA of at least 3.5. After meeting that requirement, students are then given an application form, where they fill out what clubs and community service they take part in. If the judges believe that the students meet the criteria of a NHS member, they are inducted into the club.
   Students have responsibilities to fulfill throughout their junior and senior year. All members must attend events that NHS hosts for their school. For example, NHS hosts a trivia night twice a year for all Griffith High School students, teachers, and parents to attend. Students were required to advertise the event, bring snacks to sell at the concession, and show up for the event with a team.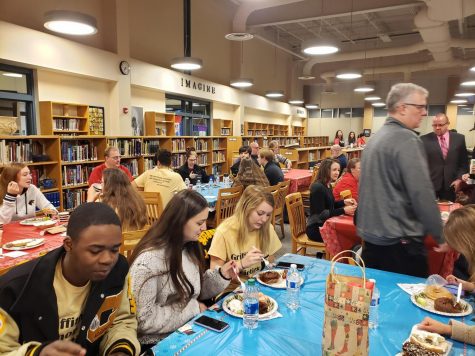 Students also have community service requirements that they must meet in order to receive their membership certificates and cords for graduation. Students inducted as juniors must have 45 service hours by the end of their senior year, which those inducted as seniors must have 25.
   Currently, at GHS, there are more than 40 members in NHS. NHS is run by Digital Curriculum & Assessment Facilitator Cindy Leber and club sponsor Diana Perez. NHS also has help being ran by seniors Kylee Taylor, the president; Ryan Davenport and Tyler Smith, the vice presidents; Esther Rossi, the historian; and Hannah Bubala, the secretary.