Griffith Varsity Boys Basketball Beat Merrillville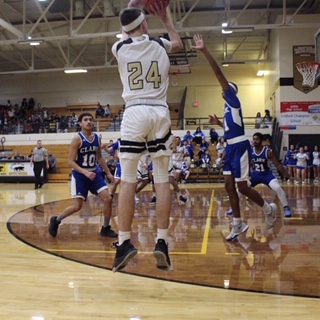 On Tuesday, December 17, the Griffith Panthers stunned the Merrillville Pirates with a score of 58-51. Before beating Merrillville, they were on a two game losing streak after playing Bishop Noll and Gary 21st Century. 
   Senior Oshawn Lee led the game with 22 points. Following that, senior Helal Issa had 16 points. Lee had a key play that came late in the game where he stole the ball for a breakaway dunk. Issa was struggling in games before Merrillville where he wasn't making key shots and causing turnovers. Lee and Issa have been playing on the varsity program since their sophomore year. Lee dressed as a freshman while coach Gary Hayes was running the floor for Griffith.
   Only 5 players returned from the team last year. Junior transfer from Calumet Ronnie Starks is a point guard who sets the pace of the game through him. Senior transfer from Bishop Noll Tyler Knezevich brings his shooting from the arc to the Panthers. 
  Returning Senior guard Tyree Riley brings improvement since last year's season
  Senior Alexander Liar returns after not playing for the program since his sophomore year. Liar's height helps the Panthers with rebounds and points down low. He will pop out from the 3 point line to put points from deep on the board. 
Merrillville was ranked 5th in the area, while Griffith was just 10th in the rankings. Since the Merrillville game, the Panthers have been a record of 7-3. They are now ranked 9th around the region. 
   The Panthers next game is Friday January 17th at Griffith against Hanover Central.