ISSMA Victories for Music Dept.
ISSMA Solo and Ensemble for Vocal & Piano and Instruments took place at Munster High School on February 1 and February 8, respectively. ISSMA is a state-level competition where participants can perform a solo or ensemble piece before a judge, get constructive feedback, and receive a rating of gold, silver, or bronze. It's a chance for students to improve and compete against themselves rather than each other; for future music majors, it is a sample of what auditioning will be like.  
"ISSMA, also known as the Indiana State School Music Association, is an organization created to support performance based music ensembles in schools throughout Indiana," said band and choir director Virginia Hernandez. "They are most known for their competitions, which include Marching Band, Organizational Festivals (Band/ Choir/ Orchestra, we will go here in April), Solo and Ensemble (which is where we went), and Jazz/ Show Choir."
There are five divisions in ISSMA that a soloist or ensemble can compete in depending on difficulty level. A Group Five piece would be for beginners, focusing on the basics, while a Group One piece would be the most advanced and encompass skills like range, articulation, dynamics, and rhythms. Group One pieces must be chosen from a list given out by ISSMA. Each performance is given a numerical rating, comments and constructive criticism from the judge, and a medal- gold, silver, or bronze. Gold medalists in Group One can compete in State ISSMA Solo and Ensemble in Indianapolis a month later. 
"I had my students select pieces in November and made sure everyone had their music before Christmas break," said Hernandez. "I provided limited class time and ample homeroom time for each collaboration, and I offered free private lessons for each group. For my vocal group, I also provided practice tracks for their part."
Vocal and Piano Solo and Ensemble took place on February 1 at Wilbur Wright Middle School in Munster. The entire Men's Ensemble- juniors Kyle Rassel, Vincent Zarndt, and Dylan Durall, with freshmen Carter Pala and Elijah Neal- performed "What Shall We Do With a Drunken Sailor" in Group 2.
"We met in homerooms on Tuesdays and went into the practice rooms," said Rassel. "We didn't have as much time to do homework in school. It was a lot of work at home, trying to memorize the parts, but hey, we got a gold. It was definitely worth it."
Junior Nina Rodriguez performed a piano solo and received silver, barely short of gold.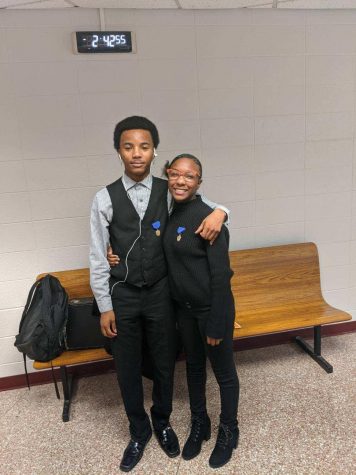 At Instrumental Solo and Ensemble, a plethora of musicians performed, including a flute trio, a trumpet quartet, a saxophone trio, and countless solos. Twin siblings A'rion and A'reya Davis competed in Group 1 and received gold ratings, A'rion for a trumpet solo and A'reya for a flute solo. They will be attending State Solo and Ensemble on February 29.
"I meant to challenge myself, to try to better my skills," said A'rion Davis. "For me, the solo is more challenging [than an ensemble] because you have no one to back you up. It's just you trying to take everything you've learned. I practiced to the point where my lips were hurting daily."
A trumpet quartet, consisting of seniors Charles Murphy and Damian Villipando, junior Donovan Santa Maria, and sophomore Andrew Cavazos, received Gold in Group 1 and will also be attending State.
"I was very nervous and very shaky when we started, but then I started calming down, and the ensemble was pretty decent," said Cavazos. "It's my first time going to State, and it's my first time playing in front of real judges.I'm ready to step up and take the challenge and ask questions about what I'm struggling with [musically]."
Hernandez has already made plans to improve next year.
"Next year we will select pieces sooner and have a wider involvement to include students that don't want to go to ISSMA District Solo and Ensemble festival by giving them solo and ensemble opportunities in GMS and GHS," Hernandez said. "I began this year in class with the Beginning Band and Concert Band already. You don't have to go to District Solo and Ensemble festival to reap the rewards of learning a solo or trio."