NBA All-Star Honors Kobe Bryant, Shows Off Stars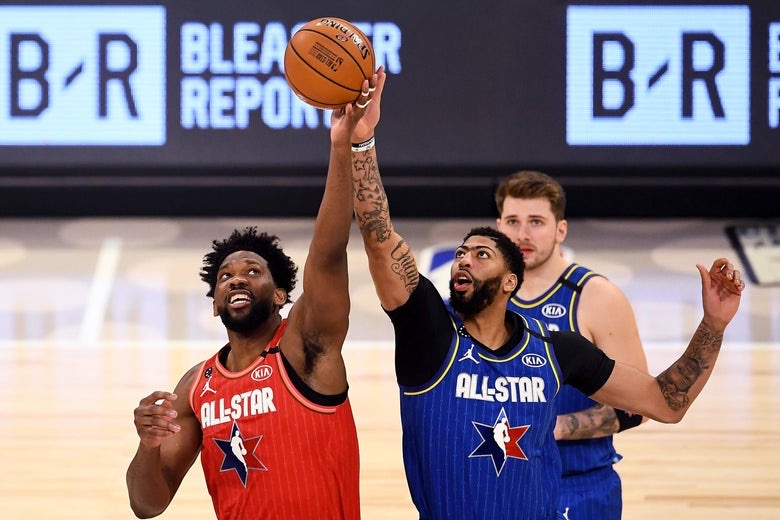 Gabe Colomes, Reporter
February 21, 2020
   NBA's annual All-star weekend was last week but this year was different. Here's why:
   First off, they changed the name of the MVP award to the NBA All-Star Game Kobe Bryant MVP award. Both teams wore 24 and 2. Team Lebron wearing number 2 honoring Gigi Bryant and Team Giannis wearing 24 honoring Kobe. 
  Since 2019 the NBA has allowed the player with the most votes from the Eastern and Western conference to pick the rest of the players that will be all-stars. Last year was also Team Lebron and Team Giannis.  Team Giannis won last year's All-Star game. 
 Team Lebron's team consisted of the following: starters, Lebron James, Anthony Davis, James Harden, Kawhi Lennord, and Luka Doncic. His bench is Devin Booker, Chirs Paul, Damian LIllard (injured), Nikola Jokic, Ben Simmons, Domantas Sabonis, and Jason Tatum. Team Lebron is coached by Frank Vogel.
   While Team Giannis's team is the following: starters Giannis Antetokounmpo, Joel Embiid, Pascal Siakam, Kemba Walker, and Trae Young. His bench: Bam Adebayo, Brandon Ingram, Jimmy Butler, Rudy Gobert, Donovan Mitchell, Kyle Lowry, and Khris Middleton. Nick Nurse coached Team Giannis. 
   Buddy Heild won the Mountain Dew 3-Point Contest. Davis Bertans, Devin Booker, Devonte' Graham, Joe Harris, Zach Lavine, Duncan Robinson, and Trae Young also participated in the contest. 
  Bam Adebayo won the Taco Bell Skills Challenge. Patrick Beverley, Spencer Dinwiddie, Shai Gilgeous-Alexander, Khris Middleton, Domantas Sabonis, Pascal Siakam, and Jason Tatum all were in the challenge also.
   The reason that this year's all star game was different because they changed the format for the game. The first 3 quarters of the game are like a mini game of its own with the score resetting at the end of each quarter. The winner of each quarter wins $100,000 for their chosen charity.
  The fourth quarter is different though. The scores from the first three quarters are added up and whichever team is leading will also gets an additional 24 points then there is a target score. First team to the target score wins $300,000 to their choice of charity. 
 Team Lebron defeated Team Giannis 157-155 as Anthony Davis hit a game winning free throw. Team Lebron won the first quarter while Team Giannis won the second quarter then the third quarter was a tie. 
   Kawhi Lennord is the first player to win the KIA NBA All-Star Game Kobe Bryant MVP Award.