Astros Caught Cheating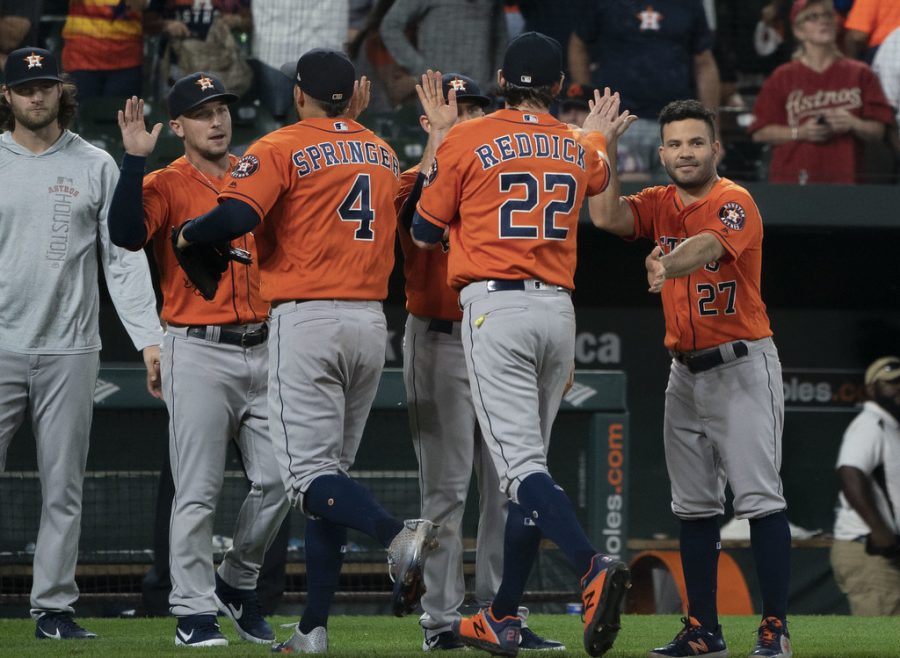 Gabe Colomes, Reporter
March 12, 2020
   Confused about what is going on with the Astros? Here is everything you need to know. 
   On November 12, 2019, The Athletic dropped a story about the Houston Astros electronically stole signs during their 2017 season. During their home games the Astros would steal signs by using the replay room in center field by seeing at the opposing catcher's signs which a monitor was hooked up inside the Astros dugout then, Astros employees and players would decode the catcher's sign in the dugout. How did the Astros batters know? They banged on a trash can signaling off-speed pitches.  The trash can banging was too easy to hear while watching the 2017 season. Soon 2017 Astros home games were on recommended pages in Youtube for the public to do their own investigation. 
   Early in 2017 an Astros coach and player started the process of the sign stealing scandal. The player was having trouble at the plate, and the coach was willing to help. From May 19, 2017 to the rest of the season, the banging was occurring constantly. October 16, 2018 the Boston Red Sox were warned by the Cleveland Indians. October 16, 2019 the New York Yankees complained about the Astros whistling to signal what pitch was coming.
   Now baseball insider Ken Rosenthal mentioned that it was started between an Astros coach and player. In my opinion, it was Alex Cora and Carlos Beltran. Beltran who was struggling at the plate at the time, has seen his batting average drastically rise up because he knew what pitch was coming next. Cora, former manager for the 2018 Red Sox who also won the World Series that year, was accused of cheating with the Red Sox and the Astros. He eventually stepped down as manager for the Red Sox, and hasn't been seen since. Beltran was going to be the manager for the New York Mets for the 2020 season but backed out when the scandal went global.
   The Astros leaked emails titled "Codebreaker." It was now available to the public to see.
   MLB Commissioner, Rob Manfred, fined the Astros $5 million, the maximum fine because it is the MLB's max under their constitution. They also had to give up their draft picks. Astros GM Jeff Luhnow and manager A.J. Hinch got suspended for a year, but an hour after they got disciplined, they were eventually fired.
   This punishment was laid back as no one in the Astros organization got a ban. This has happened before in baseball, with Pete Rose, who was banned from baseball after gambling with his MLB teams. Rose has a career record of 4,256 hits. His lifetime batting average was .303.
   The MLB has closed the Cheating Scandal case, and the Astros have already been targeted for the next season.
   The damage was already done, the memories last forever, and most importantly the Houston Astros caused a lot of MLB players to lose their jobs.