Pantherettes: A Year In Retrospect
It has been a pretty eventful season for this year's Pantherettes. From having basically a brand new team to all the ups and downs a regular season brings, one could conclude that it indeed was eventful. In this article, I, a fellow Pantherette, will be reminiscing over the good times, the bad times, and everything in between from our 2019-2020 season.
It all started at tryouts, in May of last year. We welcomed 6 new girls, 5 freshman and 1 sophomore, to our team of 5 seniors and 3 juniors. Summer practices and conditioning went as per usual: getting to know one another, getting into shape, hosting summer girls camp, walking in the Fourth of July parade, learning our sidelines and school song, bonding at team events, and most importantly, starting to work our competition routines for the following winter.
In between working our competition routines, we attended and performed at each home football game, raised money by selling mums and hosting a car wash, performed at the Central Park safety day, marched in the homecoming parade, and danced at the game later that night (honoring Homecoming queen and our senior Sara Mehisen). We bonded through all this, especially on senior night.
Soon enough, December came, which meant competition was right around the corner. We hosted our annual Terri Calhoun (TC) showcase in the second week in December, which brought joy and happiness to not only our team members and coaches, but to all who have been supporting us unconditionally. A week before was our winter dance camp; the girls who attended got to perform in our showcase as well. (Here's a link to my story over the showcase! https://ghspantherpress.org/1871/sports/1871/)
On December 15, 2019, we had their first competition at Marian Catholic High school. This was the first time, other than showcase, when we performed all of their routines in front of a crowd. At the competition, they performed team routines jazz to Ellie Goulding's "Dead in the Water," Pom to a "fight" mix, a large ensemble to Ingrid Michaelson's "Light Me Up," and two solos- Mehisen to BANNER's "Half Light" and senior Caroline Brown to Birdy's "Deep End." In the end, the Pantherettes received first in both team routines: a 66.97 in jazz, and a 72.7 in Pom.
At the next completion at Kahler Middle School now in January, we performed the same routines, and received first again, with a 75.2 in jazz, and a 76 solid in Pom. The third completion, at Munster, resulted in a 74.1 in Pom and a 71.9 in jazz, the scores decreasing from where there were previously, but we won first yet again.
The last competition of the month, at Greenfield Central High school, resulted in a 73. 3 in Pom (third place) and a 70.1 in jazz (second place). This was the first time we experienced at heavy loss, but we took it with determination and turned their scores right around in the right direction.
At the LCDI (Lake Central Dance Invitational) in February, the Pantherettes brought home a first place in jazz, a 76.43, and a second place in Pom, a 77.1.
The following weekend was solo and ensemble state at McCutcheon High School in South Lafayette. Thus far, the ensemble's score had been steadily increasing, starting at a 62.13 at Marian and ending with a 68.8 at Greenfield. We went to the all day competition to compete, have fun together, and support their neighboring competitors and friends. We placed 7/8 state wide routines at the end of the day, and were proud of their accomplishments. Soloist Mehisen had an excellent run. Her scores steadily increased as the season past as well, and qualified for semi state with a score of above an 80. Sadly, she did not make it past semi state, but she enjoyed her journey nonetheless. Brown's solo competed against Mehisen's and many more, and similarly increased in score as the season past. Unfortunately, she did not make it to semi state, but she supported her fellow soloist and ensemble during the competition anyway.
The following weekend was North Regionals at Lake Central. Although we were not sure how the day would proceed, we dedicated their hearts and souls to what they were about to put onto the floor. Regionals consists of only team routines, which then move onto state if qualified. Feeling like nervous wrecks, we paced our day, eagerly waiting for awards. At awards, we placed first in Pom, with a 79.03 and barely second in jazz, with a 79.78. We were regional champions! Afterwards, the team celebrated our success with a group dinner.
Two weekends from North Regionals was State, at Lafayette Jefferson High School. However, due to COVID-19 pandemic, State had been canceled. The board of IHSDTA is working to reschedule to event. Disappointed, we still celebrated our successes of the season and our wonderful seniors at Bridges. As heartbreaking as it is not competing the last time at state, we still recollect on the adventures the past season has brought and look forward to the oncoming gatherings we have left.
About the Writer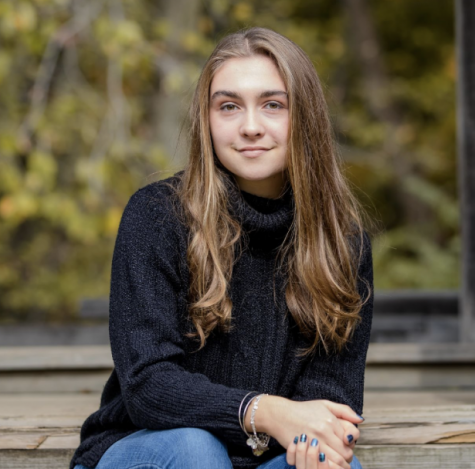 Katie Bilka, Editor in Chief
Katie Bilka is a senior at Griffith High School. She enjoys writing and interacting with her peers. In her free time, Katie is a varsity forward for the...