Empty Nest Market and Sweet Moon Macaroon Make Their Way to Griffith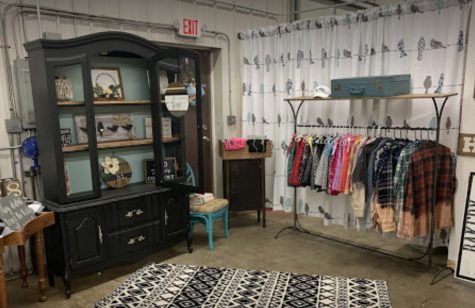 Griffith has always been known for its bustling downtown. With many local businesses and festivals keeping residents busy throughout the year, Griffith has been an attractive town to any small business owner. With this being said, new small businesses have been brought to Griffith recently.
       Empty Nest Market opened up on August 1st, located on 
321 East Main Street
. It is owned by Melissa Whiting and Colleen Ravesloot, and prides itself on showcasing local arts and crafts.
       "We rent spaces to artisans and crafters to sell their handmade products," said Ravesloot and Whiting, "Some include jewelry, soaps, candles, cups, wood signs, leggings, and metal and wood arts."
        The market is only in its infancy, and plans on growing further, "We are adding more booth space for more artisans." They also host craft workshops.
       Empty Nest Market is a shining example of local businesses at work, and cite Griffith's community as great for shops like them: "We love how the downtown area has grown and offers lots of entertainment and activities. Everyone has been very welcoming and supportive."
      Another example of a brand new local business to Griffith is Sweet Moon Macaron.
Sweet Moon Macaron is a small sweet shop located on 109 N Broad, right in the heart of downtown Griffith, that specializes in macarons. The store opened its doors in August, but its owner has been running the business since February of 2018.
      "I was born and raised in Griffith, so it was a no brainer to bring my business to my hometown!" said Sweet Moon Macaron's owner, "I love that Griffith has always been so supportive when it comes to local businesses.
      Griffith's support for local businesses no doubt has brought many to set up shop here. New businesses in Griffith are opportunities, for both customers and store owners, to try something new.