NHS Spreads Christmas Cheer Amidst a Pandemic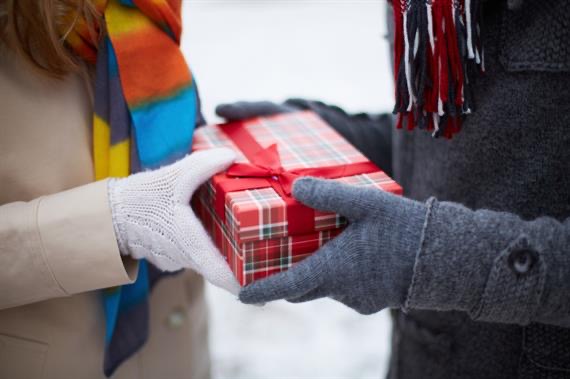 On December 2nd, the Griffith High School National Honor ociety continued their tradition of showing their support and appreciation for teachers around the holidays. This year, instead of decorating doors due to COVID-19 precautions, students decided to spread some cheer by creating ornaments, wreaths, stockings, encouraging notes, and finally a card revealing that they were the ones surprising the teachers with everything. On the week of December 7th, every teacher in the school who participated in the festivities received a special gift in their mailbox each day from their student "secret Santa." It's a tradition that has lived on at GHS since the National Honor Society had been established.
Co-sponsor of the NHS, Diana Perez, stated that she was extremely happy this tradition was able to continue, despite the pandemic that's currently circulating around the Lake County area. She said, "We really wanted to make sure that the teachers still felt appreciated, especially this year since they're having to teach during a pandemic. We took every safety precaution imaginable, including having the items be made at the beginning of December in order to have them quarantine for a week. It was really special seeing all of the teachers go to their mailboxes everyday and talk about how much they enjoyed all of their special gifts. I know the students also enjoyed creating all of the gifts, as well."
Each student in the NHS who signed up to create gifts for teachers received a total of five service hours for their dedication and hard work. They drew a random name from a list of teachers and immediately became busy planning how they wanted to design their ornaments and what they wanted to include in their encouraging notes to inspire the teachers. From buying the materials to making all of the presents and spending the time to make them look nice, being a secret Santa for NHS during the holidays is a lot of hard work. Nobody knows this more than junior Jacoba Babin. She drew special education teacher, Melissa Diekelmann, as the teacher she needed to create her presents for this year, and did not disappoint. 
Babin said, "I had Mrs. Diekelmann as the teacher I needed to create my presents for. I really enjoyed creating her an ornament that I knew she would like, decorating a wreath for her to put outside her classroom door, and writing some really thoughtful and encouraging words to inspire her teaching during the pandemic. I felt really happy when she eventually found out that it was me who had done all of this for her. She came up to me and personally thanked me for all of my hard work."
Although things at Griffith High School look fairly different this year, the one constant has always been students' appreciation for their teachers. In a unique year like nothing else we have ever seen before, the teachers at GHS have persevered and sacrificed their own health in order to make sure that their students are able to learn everything fully. They have taken the time out of their days to stay after school with students to study, prepare them for upcoming tests, and make sure that they understand everything they're being taught. Nobody has recognized this effort from the teachers more than the National Honor Society. Spreading cheer and showing appreciation is something the NHS will always do every year to show just how much the teachers mean to them.