Panthers Take Down Kougars in First Baseball Game of the Season

On March 31, 2021, the Griffith Panthers opened up their 2021 baseball season facing off against the Kankakee Valley Kougars. A brisk wind was blowing from the northeast, and a light drizzle fell as the first pitch was thrown. The Panthers, managed by Coach Brian Jennings, entered this game coming off of an eighth straight Sectional Championship. Kankakee Valley, managed by Coach Doug Nelson, is a team receiving votes in the IHSBCA Coaches' Poll for the Top 10 in the Class 3A.
Junior pitcher Ian Clark started the game off for the Panthers, surrendering two runs over his two innings pitched. Clark would finish with a final line of 4 hits, 2 runs, and 0 walks over 2 total innings. Kankakee Valley had chances to break the game open early, but could not capitalize. The Kougars' pitcher, senior Max Hunter, set the Panthers down in order for the first two innings.
In the top half of the third inning, senior Michael Alvarado relieved Clark on the mound. Alvarado quickly worked through the Kougars' offense. Hunter got a quick two outs in the bottom half, but the Panthers rallied to score three runs in the bottom half of the third. This took the lead for the game. Junior Matthew Jovanovich started the Panthers rally with a single up the middle, and junior Chris Olsen knocked out two runs to push the Panthers ahead. Alvarado made quick work of the Kougars for the next two innings by not allowing a hit over his three innings pitched.
After a walk in the fifth inning, Alvarado worked out of a jam with help from a double play started by Ian Clark, who slotted in at third base. Up 3-2, the Panthers cushioned their lead in the fifth inning thanks to a 2-RBI single from Olsen. In the sixth inning, the Panthers added another run after junior Kyle Atkinson got caught up in a rundown, allowing junior Michael Feliciano to score.
Sophomore Nathan Feliciano entered the game in the sixth for Griffith, working a smooth sixth inning. He also went back and worked the seventh inning, where he put away the Kougars with ease, locking down the Panthers' victory.
Griffith senior Michael Alvarado was credited with the win, going three innings, surrendering no runs, no hits, one walk, and striking out six. The Kougars' senior Max Hunter took the loss, pitching three innings, surrendering three runs on two hits and two walks, and striking out three. The Panthers move to 1-0 on the young season, where the Kougars will fall to 0-1.
About the Writer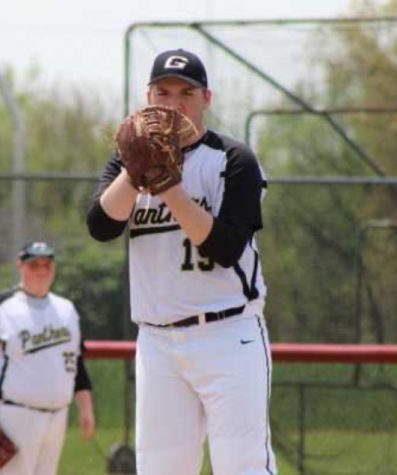 Kyle Vail, Reporter
Kyle Vail is a senior and in his first semester on the Panther Press. Throughout high school, he has played baseball all four years, and basketball and...