Sheline Shines in Panthers Victory Over Calumet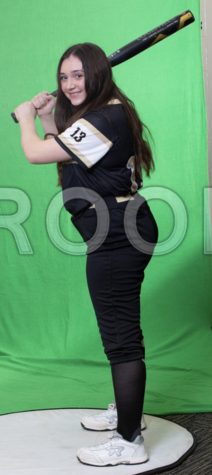 On Tuesday, April 27, the Griffith Girls Varsity Softball Team took on the Calumet Warriors in a Greater South Shore Conference softball game. Led by sophomore Kaylee Sheline on the mound, the Panthers looked to notch their sixth straight conference win. They came into the game on Tuesday riding off of a no-hitter from sophomore pitcher Reina Nava. 
The Panthers started open the game fast, stringing together five straight singles and a RBI groundout to leap out to a 5-0 lead over the Warriors. Seniors Ashley Shepard and Saleena Brunson led the charge, both knocking in two runs with RBI singles. In the bottom half of the first, Sheline worked a quick first inning, retiring the Warriors in order, only needing twelve pitches to get it done. After the first inning, Griffith did not look back.
Calumet's first baseman Bailey Patrick singled to left for the Warriors' first hit of the game, but didn't do much with it. Sheline quickly struck out the next batter with three pitches, limiting any threat from the Warriors.  In the top half of the third inning, the Panthers added it on, but not before some bumps and bruises. Three of the players were hit by a pitch in the third inning, but these hits led to a big inning for the Panthers as they ended up scoring eight runs.
The Warriors started off the fourth inning flat, recording two outs in quick fashion. However, the next three batters would reach on two singles and an error. With the bases loaded, Sheline stepped up and struck out the next hitter to leave the bases loaded in the bottom half. After a smooth top of the fifth inning, the Warriors had their work cut out for them. However, Sheline mowed them down in the bottom half of the inning and ended the game.
Sheline had an impressive game on the mound, throwing 67 pitches for 55 total strikes. She pitched a complete game, allowing 4 hits and no runs over 5 innings. She struck out nine hitters and did not walk anyone. The Panthers enjoyed an offensive outburst, recording 12 total hits in the evening. Brunson led the team with two hits and three RBIs for the night.
On the opposite side, R Smith took the loss for Calumet, surrendering 13 runs on 9 hits and one walk. She lasted three innings, striking out one. In her relief, J Robinson went two innings, allowing 4 runs on 3 hits and 2 walks, striking out none. Patrick led the Warriors offensively, knocking two hits in her two plate appearances.
The Panthers improve to 9-4 on the year with the win, and 8-0 in conference play. The Calumet Warriors fell to 0-6 on the season, and 0-6 in conference play as well.