Esquivel Crushes Two School Records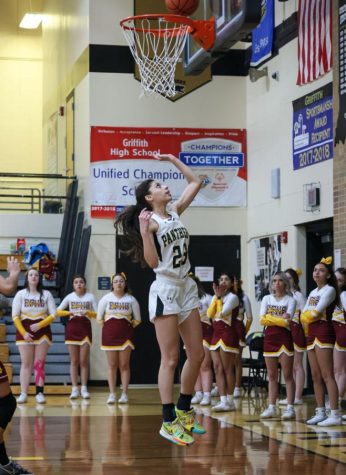 Saturday, January 22, the Lady Panthers Basketball team played the Portage Indians. At this game, Senior Marisa Esquivel scored her 941st point of her career total beating her sister, Ariel Esquivel, who previously held the record. During the Sectional Championship on February 5th Marisa scored her 1,000th point against the River Forest Ingots. She is the first Lady Panther in school history to score 1,000 points in her high school career. The gym exploded as the ball fell through the net.  Marisa is now the leading scorer in all of Griffith High School Basketball history.
Marisa has been on varsity all four years of high school. Marisa is a staple on the Lady Panther squad. She contributes about 13.4 points, 2.5 assists, 3.2 rebounds, and 3.9 steals per game. Marisa has contributed largely to the Lady Panthers winning sectionals and going to regionals two years in a row.
Marisa has been playing basketball for years, she loves the sport and is extremely dedicated. When finding out she beat her sister's record she said, "I feel like it was really bitter sweet because it was a really big accomplishment that I worked hard for, but since it was my sister's record I was kind of sad because it was a big accomplishment for her as well last year. I think it's really cool though that we are both now the 1st and 2nd for all time scoring." Besides playing high school basketball she also plays on a travel AAU teams, Traditions, and she also played for the Griffith Girls Basketball league. She was largely taught what she knows by her dad who has coached her her entire career. She isn't sure where she would like to attend college or if she is going to further her basketball career at this time.