2nd Annual Pep Rally For The Communities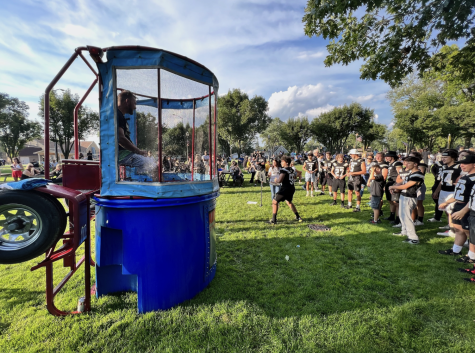 On Thursday, August 18th at Central Park in Griffith, a community pep rally was held. With the help of Ryan Harrington, Highland Schools Athletic Director, Neil Dimos, Griffith Schools Athletic Director, and the Panther Parents Booster Club, Griffith and Highland football teams were able to celebrate their school's history with what they are calling, "The Battle of the Bike Trail."
Griffith and Highland rivalry started about 15 years ago. Now, they play the first game of the season against each other, and it kicks off the start of the high school football season. Griffith's record last year was 4-6. Griffith beat Highland 38-21 last season. Highland's record was 5-6. Griffith is looking to add to their win over Highland last year.
At 5:15, the Griffith Football team walked from Pine Street to Central Park. From 5:00-5:45, Mrs. Garvey was in the dunk tank. From 5:45-6:30, Mr. Mik was in the dunk tank. From 6:30-7:15, Coach Zarndt was in the dunk tank. Finally, from 7:15-8:00, Mr. Chance was in the dunk tank. "I thought it would be fun and love to be a part of school events, " Chance stated.
The organizations there were Griffith's band, Middle School and High School Cheer Teams, and Pantherettes. Highland's Dance Team also performed. Teams had fun dancing to the DJ as well as all the fun team competitions. Additionally, there were food booths including Rivera Maya and True BBQ. The Griffith community came together and offered up information about other clubs including Wadsworth PTC, Berigier PTC, Panther Parents, Best Buddies, Right To Be Anti-Bully Campaign, Varsity Sports, and more!
Griffith's Athletic Director, Neil Dimos, talks about the pep rally.  "Last year there were only 2-3 vendors and more of a team-oriented thing. This year we were able to have 15-20 vendors with some food trucks and it's getting bigger every year," states Dimos.
Griffith football head coach, Rob Robinson, states, "It's fun stuff. The community loves it the players love it, but as a coach, it takes away from the preparation time and things like that. High school sports is about having fun and experiences, so I love this kind of stuff, and it's good for both teams and both communities. I hope we have it for a long time".
When Connor Cervantes was asked how he likes the pep rally, he states, "I love pep rallies all the time. So, for them to give us a pep rally on a Thursday I feel like it hypes up the team because everyone is there for us".
The pep rally is a great way for both teams to see each other before the big game. They will show great sportsmanship between the two and show respect for each other. For the next two games, Griffith's Varsity will play Munster and Hobart away., The next 2 games for JV are at home on Saturday mornings.