The Controversial New Cell Phone Policy at GHS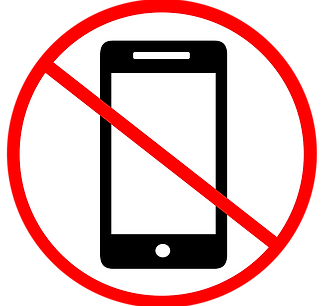 "Out of sight out of mind" was a phrase every student knew at Griffith High School last year. It was the phrase used to define our cell phone policy that many students did not agree with. All year long the administration fought with students to put away their cell phones as well as Bluetooth headphones. This year the decision was made that cell phones should not be on a student's person for the entire school day. This decision has certainly riled some students at GHS, but it has been a few weeks since the policy was initiated and have the effects really been as negative as students feared? 
       An email went out a few days before school informing students about the new cell phone rule for year stating, "All cell phones must be turned off when students enter the building and should not be turned on until the student leaves the building," as well as listing the consequences of not abiding by these rules. These rules would apply to everyone in the school, whether that be an 11-year-old 6th grader, or an 18-year-old senior. Initially this upset many students with safety concerns as well as thinking the policy was blatantly not fair. Sophomore Nolan Davenport expressed, "I think we should be trusted with our phones because it's our personal item and if you're using it during class and you miss something important, that's your own fault and not anyone else's responsibility."  Students expressed similar concerns on social media and during school board and class meetings to no avail, the cell phone policy was here to stay. 
       Not all reactions to this policy have been negative though, numerous teachers have reported students being more attentive and willing to participate without phones in school. History teacher Mrs. Pramuk reports, "Students have been more engaged in class. I showed a video that in past years kids usually ignored to go on their phones, but everyone in my class watched and enjoyed it."  
      As well as teachers, there have been some students who have seen a positive impact with the phone policy. 8th grader Zoe Scieska says, "I think the cell phone rule is probably a good thing because they can be a big distraction." Students have commented on increased productivity not being allowed to have their phones in class. Senior Bella Visak said "I have been a lot more productive. When I had time at the end of class I used to spend it on my phone but now, I have started using it for time to do my homework." 
       One consensus among students is that cell phones should be allowed during breakfast, lunch, and advisory. "If teachers don't want us to have them in class that's fine but I think we should at least get them in between classes and at lunch." Davenport says. "There should definitely be leniency at our lockers and at lunch times." Says Visak. When asked about when cell phones should be permitted 8th grader Grace Pinkelton says, "I'd prefer if we could have them all day, but I think at least we should have them at lunch since it's our free time."   
      There are many differing viewpoints on the rules regarding cell phones. Students feel a mix of benefits, like productivity while also feeling a piece of their independence being taken away. There are certainly a mix of positives and negatives regarding the new rule but being able to seek out the good things and increase productivity will be beneficial to students.