Mr. Worosz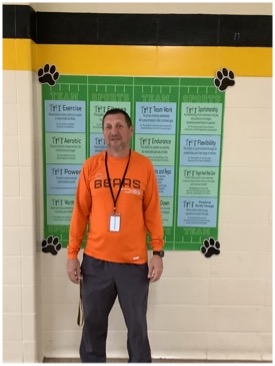 Mr. Worosz has been a P.E. teacher at Griffith High School for 25 years. His roots stem back to his high school days as he graduated from Griffith High School. Worosz talks about the reason he came back to Griffith High School. "I was looking for a physical education job because I was teaching special education for my first few years out of school. My wife graduated with Coach Radtke's son, and the health teacher here resigned. He let her know there was a position open, and that there was also a position open for football." Worosz always said he never wanted to teach and live in Griffith again. He does both now and he's astonished at the way it worked out.
Mr. Worosz was a graduate from the 1991 class from Griffith High School. In high school, he participated in football and ran track. He went to college and played football. He thought about being a math teacher, then he realized he had to grade homework and teach others how to figure out math problems. Also, he doesn't like the classroom setting being more of an active person.
In high school and college, Worosz never played golf. Worosz's golf influence came from his friend. After he graduated, he was an avid golfer went golfing with his friend every weekend and he loved it. He wanted to find a sport to play in his mid-to late 20's, because the risk factor of getting hurt is higher when you play sport pickup games. An opportunity arose when Griffith and a few other schools created the NCC (Northwest Crossroads Conference). Griffith needed a girl's golf team to be a part of the NCC, so he jumped on the opportunity as soon as he could. Worosz has coached many athletic teams in his 25 years at Griffith including  football, both golf teams, cross country, and track. Mr. Worosz has made a great impact on the school and will continue to do so.