Ticketmaster Struggles With Fans and Website
Ticketmaster is the world's largest ticket marketplace, that partners with event coordinators to make their tickets available online. However despite it being the world's largest, the website has many problems causing customer experiences to be negative. Today Ticketmaster is considered a modern day monopoly that remains unchecked. The website controls more than 70% of the ticketing and live events market. Ticketmaster handles all steps of the ticket supply chain. It deals with artist management, concert promotion, venue management, primary ticketing, secondary ticketing, and consumer facing fan marketing. Due to its enormous outreach to the general public, vendors find themselves using the website even despite the problems. Without Ticketmaster vendors feel as if they do not sell through Ticketmaster, no tickets will be sold. Vendors could use Ticketmaster's competitor SeatGeek, however in fear of no sales, they continue using Ticketmaster.
However, users of Ticketmaster complain of a frozen queue, high ticket prices, buggy ticket sales, litany of fees, and the reselling of tickets. Customers find it quite odd how even during a global recession, it is still an unaffordable luxury with no signs of decreasing prices. When customers used Ticketmaster to buy tickets for Taylor Swift's "Eras" tour, they experienced many of these problems. Customers were outraged by frozen queues and claimed it was the main reason as to why many did not get tickets. With no other outlet to buy tickets, it was this event that prompted negative feedback for Ticketmaster.
However, Ticketmaster itself sees no problems and has no incentive to listen to customer feedback. With no leading competitors and its enormous monopoly, no one is pushing Ticketmaster to fix their website. Either way, with or without the problems, vendors continue to tell on the website making Ticketmaster more money. Unsatisfied customers took their problems to social media to try and reach Ticketmaster. Customers began using the #breakupticketmaster to ban together in disapproval for Ticketmaster's actions. However former Ticketmaster CEO Fred Rose said he was unmoved by fans outrage, and had no sympathy for people complaining about ticket prices or issues.
Despite dealing with customer complaints about the website itself, Ticketmaster also has been involved in fake ticket controversies. In December 2022, Ticketmaster sold fake tickets to the Mexico City dates of the 2022 concert tour by Puerto Rican rapper-singer Bad Bunny. Fake tickets were sold on the website leading to unusual crowding at the concert. This confusion caused real tickets to be denied entry to the concert as security struggled to identify the valid tickets. Fans were outraged that Ticketmaster had sold faulty tickets and cause those with real tickets to miss out on the concert. In return, Ticketmaster was fined up to 10% of earnings in 2021. Ticketmaster was also required to reimburse affected fans the price of their original ticket in addition to an extra 20%.
Recently in February 2023, Beyoncé announced her Renaissance World Tour partnered with Ticketmaster. Fans were unsure by this choice and questioned the reliability of the website. Fans who have experiences alike to those who failed to buy tickets to Taylor Swift, and the faulty tickets with Bad Bunny do not want another experience when buying tickets to Beyoncé's tour. Ticketmaster had a formal statement regarding this tour. Ticketmaster expects demands to be high and pledged to implement a "multistep verification process " to ensure valid ticket purchasing. Ticketmaster continues to sell through its Verified Fan program in North America, and plans to stagger ticket sales in the future.
Leave a Comment
About the Writer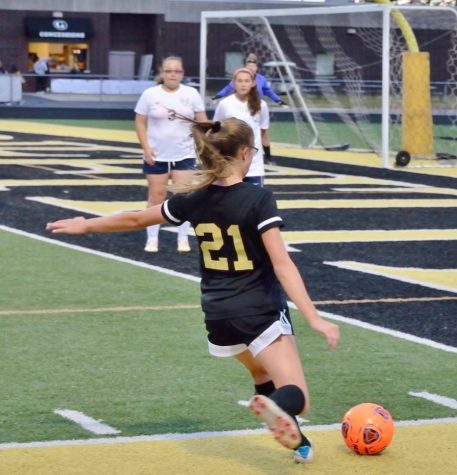 Kayla Doctor, Reporter
Kayla Doctor is a junior and this is her first year working with Panther Press. Outside of Panther Press she participates in soccer, softball, class council,...