Disability Awareness Month
The month of March is known for many things such as daylight savings time, St. Patrick's Day, and Irish-American Heritage, but one of the most important things celebrated is Disability Awareness Month. Griffith Jr/Sr High does so many things to celebrate this month such as recognizing our unified sports teams, hosting a wheelchair basketball game, and even selling disability awareness shirts.
For those who don't know what it is, National Disability Awareness Month was first declared by Ronald Reagan in 1987, making March the official month Disability Awareness. It was called Proclamation 5613 and it called for people to provide understanding and opportunities to help persons with disabilities to lead productive and fulfilling lives. Every year, Griffith recognizes this month by selling T-shirts having different designs every year, and they all have encouraging phrases on them to spread disability awareness, but more importantly, encouragement and understanding. Students who buy the shirts are asked to wear them on all Fridays in the month of March in order to celebrate this month.
Another thing that is done year-round is recognizing Griffith's Best Buddies club and Unified Sports teams which include, Bocce Ball, Flag Football, Bowling, and Track. Best Buddies is a club that anyone can join, whether you're in high school or middle school. Best Buddies is a program that offers One-to-One friendship, integrated employment, and leadership development programs for individuals with and without disabilities. It is such a great opportunity to get involved at school, as well as make friends and have conversations with students who may not be in any of your classes. Bocce ball and flag football take place in the fall, bowling in the winter, and track in the springtime.
This year, the unified bowling team advanced to State in Indianapolis on Saturday, March 18th where they competed against teams all over Indiana. They ended up placing 8th out of 25 teams in the high school division, and 5th in the open division. This was an amazing accomplishment because both teams advanced, and both competed for their spot.
Natalie Chaplin, "Unified bowling is so fun and I've been doing it for 3 years." Each of these sports is open to all high schoolers interested and it joins people with and without intellectual disabilities on the same team. This is such a great opportunity and highly encouraged at Griffith.
Sophia Knox said, "I have done unified bowling since freshman year it has been such a great opportunity. I loved spending time with all the kids and I definitely recommend joining the unified sports."
Griffith holds an annual wheelchair basketball game in the month of March, and this year there were two separate games–middle school and high school. An official wheelchair basketball team came to the school and helped to make this game possible. The game consisted of four 8 minute quarters and there was also a halftime show that our Pantherettes team put on. Students were selected by volunteer from each grade and every quarter, a new group of students were able to play. This was an amazing opportunity and experience for all of the students, staff, and players because it proved disabilities shouldn't stop people from doing what they love, not to mention it spread so much encouragement and positivity.
Miss Diekelmann was in charge of setting up the wheelchair basketball game and she said, "It was definitely a labor of love. It is a lot of work putting it together, but the end results, watching our students experience what someone in a wheelchair goes through on a daily basis, makes it all worth it."
Leave a Comment
About the Contributor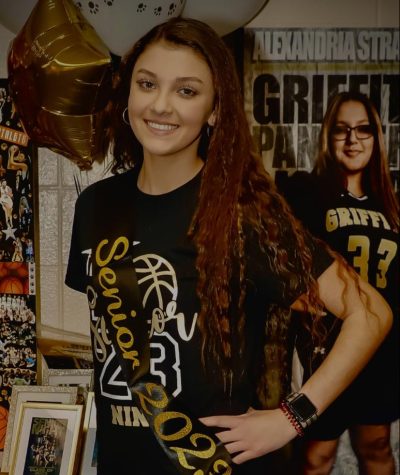 Nina Zielke, Reporter
Nina Zielke is a senior and this is her first year writing for Panther Press. She will mostly be writing about local events in school, as well as local...