College Commits: Connor Cervantes
This is a part of short series of stories featuring Griffith High School students who have already declared themselves to play a sport/activity competitively at the collegiate level.
Connor Cervantes is a three sport athlete at Griffith High School(GHS), playing football, wrestling, and baseball throughout his tenure at GHS. Cervantes plans to pursue football at the Division 1 school, Valparaiso University. This university is located in Valparaiso, Indiana, and is in the Missouri Valley Conference for athletics.
Connor is majoring in sports marketing during his time in Valpo, and is undecided on his minor. When asked about his decision to go to Valparaiso out of all his options, he credited the location and the atmosphere as the main pull factors.
"I chose this school because when I went on a visit it felt like a place where I could be successful both on the field and academically. Another good thing was that it wasn't too far from home. I loved the atmosphere and the coaches that I got to talk to. The team seemed like the were on the come up."
Connor's football life starting at the age of 4, and was mainly inspired by both his mother and his father.
"They [his mother and father] have pushed me everyday to be the best version of myself possible. I love the grit and toughness needed to play football and in my 14 years of playing I've always dreamed of playing in college. I've been grateful to have lots of support from my family and friends throughout my life."
Connor has both athletic and life goals for his time in college, setting high expectations for himself.
"My goal is to find a great job straight out of college. For sports I would like to be an All-American and try to lead the team to a conference championship."
Connor Cervantes is a incredibly talented and hard-working man, and Valparaiso University is getting a one of one student-athlete.
Leave a Comment
About the Contributor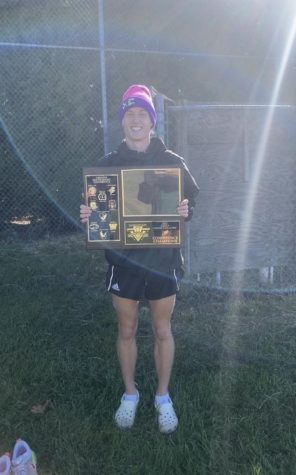 Joseph LaPatra, Reporter, Editer
Joey is a junior and this is his third year writing for Panther Press. He is active in Cross Country and Track.  He is an avid sports watcher, writer,...