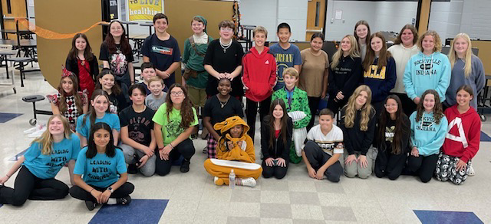 GRIFFITH, INDIANA – Griffith Middle School's National Junior Honor Society (NJHS) sponsored and organized the annual Halloween Social last Thursday, October 26, after school in the school's cafeteria – which brought a chance for students to gather with their peers – made possible by the club's students and sponsors.
The annual Halloween Social is hosted at the end of every October. With the NJHS sponsoring the event for over fifteen years, it has provided a place and time for students to get together and have some fun. Eighth-grader Enrique Ramirez said, "I'm here to have fun and hang out with friends." It gave an incentive for students to keep up in their academics as well, as the entry requirements were all classes had to have been passed, and no suspensions were acquired in the first quarter of the year – keeping in common with the club's heightened standards.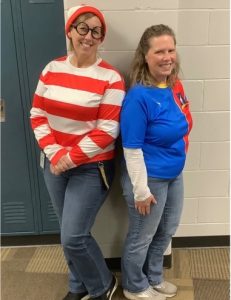 Each member had a part to do in the preparation. Students chose from two of three tasks, consisting of concessions, making posters for advertising, or finding adults to chaperone the social. The funds raised from the event went into the club's general costs to keep it running and other honor society events, such as the annual leadership conference.
NJHS is a club dedicated to teaching middle school students leadership skills and providing opportunities for leadership experience. Sponsored by sixth-grade science teacher Marty Jarmula and Digital Facilitator Cynthia Leber, the two have been guiding the Griffith chapter of NJHS for three and nine years, respectively.
Jarmula spoke about what sponsors do, saying, "We as sponsors take suggestions from students…we also organize our regular activities, such as the socials at the middle school and the trivia nights at the high school. We help keep track of their volunteer hours and provide them with information about opportunities they can participate in, as well." Leber also added that they frequently work with the school board and administration to approve events and find ways to benefit the school.
Previously, instead of being a social, the event was a dance. Leber addressed the name change, saying, "The name changed from a dance to a social because we wanted to emphasize that we just wanted students to be able to get together… and hang out with their friends. It wasn't a "dance," where they felt the pressure to have a date… it was more about just hanging out, socializing, with your peers."
In addition to students enjoying the event, many members spoke positively about their time in NJHS. President Nolan Doctor offered what he enjoys, saying, "Going to service opportunities, setting up and attending events, being with friends, and helping people." Likewise, Vice President Brylie Bridges answered why she joined NJHS, saying, "I joined NJHS to be more involved in my school and learn about leadership skills. Being vice president taught me accountability and teamwork." Currently, the officers are as follows: President Nolan Doctor, Vice President Brylie Bridges, Co-Secretaries Casey Cundiff and Isabella Dawes, and Historian Milah Castro.