Our very own Griffith Theatre Company is putting on a terribly amazing performance as they present The Play That Goes Wrong!  Students from the G have been working very hard and spending long nights rehearsing for most of the semester. They are happy to finally give the community an exciting comedy show that will have the audience in tears. "I am excited for the audience to finally see the hilarity of what our cast and crew have been up to for these last 3 months! There are several comedic moments in the show involving a missing mantlepiece, a stretcher, cast members forgetting lines, and a grandfather clock. I'll let the audience be the judge of which moment is their favorite," says the Griffith Theatre Company's head director, Jenna Parker. The show's performances are only this weekend, starting today (Friday, November 10th), and will be presented through Sunday, November 13th. If you are free this weekend and want to have a good laugh, come down to see The Play That Goes Wrong! If you want to stay updated on the next show here at the G, follow their social media pages below.  
Friday & Saturday, November 10th-11th, @7 PM (doors open at 6:30 PM) 
Sunday, November 12th, @3 PM (doors open at 2:30 PM) 
$9 per ticket 
 Show shirts, 50/50 raffle, and concessions sold all weekend! 
 Box Office: https://griffithathletics.com/panther-box-office-tickets/ 
www.griffiththeatrecompany.com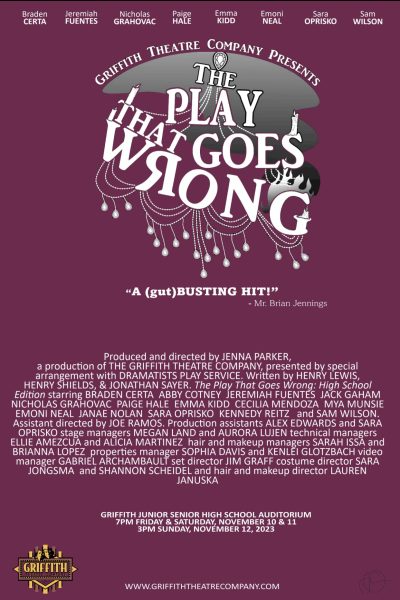 Griffith Theatre Company 
Griffith High School Auditorium 
601 North Wiggs Street 
Griffith, IN 46319