Summer 2018 Recap
After school let out in June, students finally had the opportunity to spend time with friends outside of school without worrying about homework, sports, or waking up early the next day. Music festivals are extremely popular among high school students because they can see all of their favorite artists within a day or two in the same location. Town events offer affordable entertainment nearby.
Western Days
Long lines, busy feet, bright lights, laughter filling the air. St. Mary's Western Days, which opened on August 16th and ended on the 19th, marked the 45th year of celebrating this festival. "I went on rides that I never would have gone on if it weren't for my friends and my boyfriend. It truly was a great time," sophomore Stephanie Ritz said. Every year, St. Mary's hold bingo games inside the main hall, casino games and food booths scattered around the filled lot, carnival rides and games along with a dunk tank, and a live band playing inside the beer garden that can be heard throughout the entire fest. On the last day of the fest, the fireworks at the closing concludes another successful and exciting year of Western Days. Central Market
Having started in May and ending September 14, Griffith hosts a Central Market every Friday from 4-10pm. Sophomore Aubrey Wallace said that she likes going to the market to listen to the music. "My family and I enjoy the different foods there while listening to the music that's provided," Wallace said. The Griffith Central Market holds many varieties of food and clothing canopies to choose from including food trucks, a beer garden, and kiddie games along with two to three bounce houses. A live entertainment band performs every week starting with an opening act at 5-6:30 and the main act starting at 7-10pm.
Lollapalooza
First appearing in August of 1991, Lollapalooza is an extremely popular music festival having music ranging of genres like heavy metal, alternative and punk rock, hip-hop, and many other performances that move away from performing music, including dance and comedy acts along with vending booths, clothing and jewelry booths, accessories, etc. Senior Grace Opinker said that her favorite performance was Travis Scott because he interacted with the crowd and she knew all the songs. "During the day it was very hot and crowded, but it cooled down at night and people respected each other's spaces," Opinker said. Kidzapalooza is an area inside Lollapalooza that has music workshops, mini concerts, and interactive art exhibits for younger fans of performing artists.
Lake Shake
Lake Shake is a country music festival that was held at Huntington Bank Pavilion at Northerly Island on June 22, 23, and 24, with the doors opened everyday at 2:00-11:00pm. All ages are welcomed, and children 6 and under can show up for free and do not need a wristband. Blake Shelton, Dierks Bentley, and Florida Georgia Line are a few of the popular artists that recently performed. Besides the music that this festival provides, there is a view of the city's skyline, pop-up performances around the fest, line dancing, and a kiddie zone with an arcade and face painting available. "I loved to see all my favorite country artists in the same area," said senior Nina Stosic. "I was exposed to new music that I didn't know." Pepsi Summer Bash
Usually held on a Saturday in June, in the Chicago area, the Pepsi Summer Bash is an annual music concert that was first presented in 1992 by B96, a Chicago radio station. This year's bash was held at the Allstate Arena on June 23, 2018. Halsey, Alessia Cara, Dua Lipa, 5 Seconds of Summer, and Bazzi were featured performers along with a new music group Why Don't We and solo artists Meghan Trainor and Bebe Rexha. "There was a variety of people there. Some were happy and loud and some were calm and quiet. It was a big concert, so going to the Pepsi Summer Bash as my first concert was amazing," said sophomore Mariah Dickerson. The main genre of music performed is pop music and hip-hop.
All of these events kept students involved and entertained during the summer, allowing them to relax before the upcoming school year.
About the Writer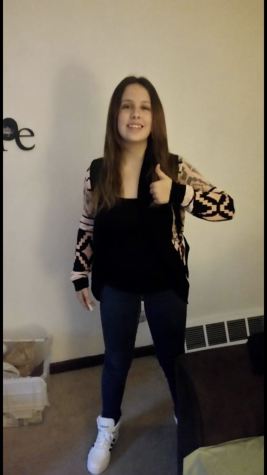 Brianna Langel, Reporter
Brianna Langel is a junior at Griffith High School. This is her third semester on Panther Press. She enjoys writing and interacting with other students...