Literature Club Attracts Students of All Grades, Interests
Hang on for a minute...we're trying to find some more stories you might like.
  Literature Club, better known as Lit Club, has been gaining steam in size and status this school year. It started out as Book Club in 2017, but club supervisor and English teacher Carl Dunlap decided to expand the club to include all forms of literature, including film, music, comic, and video games. The new club started out as an underdog, with less than ten members and a vague agenda. This year, the club tripled in size, and Dunlap has a new, improved agenda for the club.
  "The objectives are to provide a fun academic environment where people can discuss literature without a rubric or grade attached, and to help students expand their libraries of content by exposing to new themes and ideas." said Dunlap. A chair person, senior and founding member Molly Mills, was appointed to come up with meeting ideas and topics for each week. Dunlap plans for the club to write book reviews, produce advertisements, and even take a field trip.
  Dunlap emphasized that he was only a supervisor who monitored debates; the students take the lead in this club. A typical meeting consists of literary discourse centered around a theme or topic of the day. Students present their diverse views on how the topic is represented in works they've read or watched; their literature ranges from classic novels to Disney movies. Afterwards, they play a game relating to the subject, such as Kahoot trivia or Buzzfeed quizzes. All throughout the meeting, refreshments and snacks provided by Dunlap are available.
  "I love discussing my favorite things and talking about specific parts of literature," said senior Christian Holley. "Every meeting is different. My favorite part is having a lot of friends there and getting into heated debates amongst ourselves. It's made me a happier person overall."
  Lit Club has been growing in population and publicity lately. The club had a table at Parent Teacher Conference night, with posters and logos based on classic novels. More underclassmen of varied backgrounds and personalities are joining. Dunlap expressed hope that the club will continue to grow.
  "Working with the club has exposed me to differents shows and movies and books that, otherwise, I wouldn't have acknowledged," he said. "It has brought me a sense of pride in helping students foster friendships and common interests through literature. I really enjoy hosting the club and bringing newer and unique works of literature to a new audience."
  Lit Club meets once on a week on Thursdays after school. Students of any grade are welcome to join at any time.
About the Writer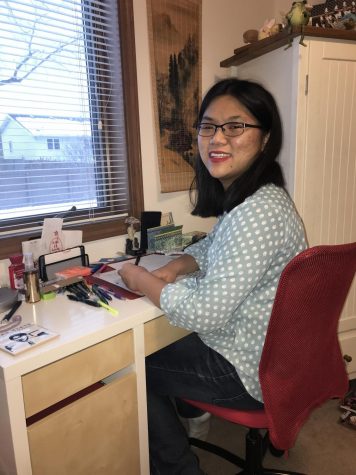 Liana Boulles, Copy Editor
Liana Boulles is a junior at Griffith High School and copy editor of the Panther Press. She has been on staff for three semesters. She enjoys writing and...