Winter Sports Warm Up For the Season
Hang on for a minute...we're trying to find some more stories you might like.
Another winter sports season is quickly approaching at Griffith High School, and it's time to get a sneak peek of what's in store for the Panthers in the 2018-2019 winter sports season. Griffith is coming off of a very successful fall sports season as the girls' volleyball team and girls soccer team won sectional titles, and the football team won a conference title for the second year in a row. The winter sports' season hopes to hold even more success and help make Griffith become an athletic powerhouse in the 2018-2019 school year.
The swim team looks to dive right into their season on a positive note as they have their first swim meet of the season at Lowell High School next Tuesday. Some top swim meets to keep an eye out for are the last two swim meets of the season at North Newton on January 15, and at East Chicago Central January 22, as Griffith looks to create momentum heading into sectionals. The top girl swimmers to watch are juniors Hayley Keene and Kylee Taylor. Keene set the fastest lap record in GHS history her freshman year and had a strong sectional performance last season. Taylor is coming off a very productive season as her relay group was a top three finisher in several meets. "I love to compete not only against other competition, but also against myself. I always try to beat my times," said Keene. A few boy swimmers to watch are senior Richard Damron and sophomore Tommy Taylor. Damron is the most experienced swimmer on the boys' team, and looks to use his experience to his advantage in the meets. "Swimming is all about pacing yourself, but also being fast. I've learned to pace myself better so I don't get tired so easily," said Damron.  Taylor had the quickest lap time out of any freshman a year ago. He'll be a critical part to the Panthers success not only this season, but also the next two seasons.
The girls' basketball team looks to rebound from a season ago in which they had a losing record of 7-18. The Panthers return zero seniors and have a very young team as they are mostly made up of freshmen and sophomores. The most experienced player on the team is junior Briah Strezo. Strezo is the only returning starter from a year ago, and is the only junior on the team. "Being the leader on a young team is challenging, but also something I'm taking pride in," said Strezo. Another key player to watch is freshman Jaecy Nelson. Nelson is a 5'8 forward, and is coach Dustin Nelson's daughter. Nelson is the tallest girl on the team, and will be a critical part in rebounding the basketball for Griffith. A key game to watch is when Griffith plays Highland High School January 15, as the two schools look to renew their rivalry, and win the only game they play against each other this year.
The wrestling team has goals and aspirations to regain postseason success with a very talented and experienced roster. The Griffith wrestling team is led by senior Cole Cervantes, who has advanced in the postseason all three seasons he's been in high school. Cervantes has made it to semi-state, but has never reached state. This season is his final shot in his high school career to make it to the state finals. "My number one goal each year is to make it to state, and the closer I get to state, the more it motivates me to get there," said Cervantes. Another key wrestler to watch for is junior Cole Reitz. Reitz has been solid his first two years, and is the brother of former Griffith wrestler, Jeremiah Reitz, who was a state champion and is now wrestling at Duke University.
The boys basketball team is coming off a heartbreaking sectional championship loss to Gary West Side last season after being sectional champs for three consecutive seasons. The Panthers will have four returning seniors, who are all expected to be starters when the team hits the floor at Hammond Clark for their first game on November 29th. "This season, we want to get back to winning postseason titles because that sectional loss hurt us bad last season. We want to come back this year and get our revenge," said senior point guard Craig Gordon. Some key players to watch for Griffith this season will be senior guard Tim Lawson and senior forward Corey Landers, who transferred to Griffith this past fall. Lawson led the team in scoring a year ago and has been a key contributor for Griffith the last two seasons. The Panthers will be tested on January 1st when they play at Crown Point High School, which was one of the best teams in the region a season ago. They will also have a critical rivalry game against Highland at home on February 9th. The basketball team will look to improve upon their 16-10 record last season and start winning postseason titles again.
About the Writer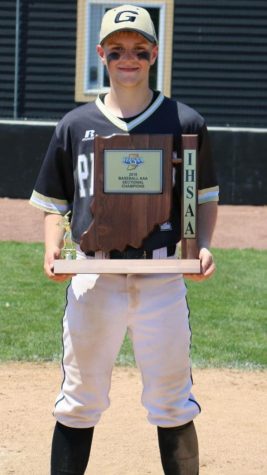 Andrew Braddy, Reporter
Andrew Braddy is a senior at Griffith High School and this is his sixth semester being on staff. Andrew enjoys writing sports stories and wants to be a...