Griffith Loses Longtime Businesses Kmart, Family Video
Hang on for a minute...we're trying to find some more stories you might like.
  Griffith is losing two businesses that have been part of the community for years. A Kmart in Griffith Park Plaza on Ridge Road is scheduled to close at the end of 2018; over a hundred employees will be unemployed by the New Year, and the plaza faces the possibility of demolition. On the corner of 45th Street and Colfax, major construction is underway to remodel a recently closed Family Video into a Family Express gas station and convenience store. Many residents of Griffith grew up with these stores and have fond memories of them, but the new business possibilities for the premises are important and potentially revitalizing for the community.
  Griffith Park Plaza's Kmart will be closing its doors forever at the end of 2018 due to Sears Holdings, its parent company's, bankruptcy and closure of unprofitable stores. Liquidation began on October 25 and will continue until the end of the holiday shopping season. Discounts are currently at 30% to 60% off and will steadily rise as the end draws near. 113 employees will be laid off, including 20 checkout service associates, 27 merchandisers, 21 associates and leaders at the in-store Little Caesars restaurant, a pharmacist, and four pharmacy technicians.
  "I worked in the Shoe Department and carryout, but now everyone's a cashier," said senior KeShawn Williams. "It's a lot busier. I was getting three days a week before, but now I'm getting five to seven days. I get more money, but less time to do homework. Everyone has to find new jobs."
  The entire plaza might be demolished, since Kmart is the main attraction. Businesses such as Food King China Buffet, Payless ShoeSource, and a U.S. Army recruiting station risk loss of their buildings. Multiple buildings in the lot are shuttered and vacant due to previous inhabitants' failures. Profitable businesses in the outer lots, including Pizza Hut, Popeye's, and Jedi's Garden, will not be harmed.
  "We'd like to see a complete demolition of the entire property," said Griffith Town council President Rick Ryfa. "The plaza needs redevelopment. When it was built, there were outrageous requirements for parkings. there's so much wasted space. It's a prime location just off Interstate 80/94. It's an excellent opportunity. We would love to work with any developers."
  The loss of Griffith's Kmart is a result of Sears closing 142 of its least profitable stores. After this mart closes, there will be only one Kmart in Northwest Indiana, located in Valparaiso.  Sears Holdings has been closing stores and selling assets for nearly a decade due to declining sales, debt, and loss of customers to competitors like Walmart, Target, and online retailers. Sears' Holdings filed for bankruptcy in 2011 and has been struggling with a debt payment of $134 million. The company has not made an annual profit since 2010 and has lost $11 billion in the last decade.
  The Family Video closed in September, and Two Council unanimously voted for construction to convert the building into a Family Express gas station and convenience store. If it can obtain a license, the store will be selling liquor. The property's zoning was switched from B-1 to B-3 to allow the process. Construction began over the summer; the intense project required not only remodeling the building, but altering the road around it.
  Residents near the site are not entirely pleased that a gas station, especially one that might sell liquor, will be so close to home. Several are concerned about the contraction and traffic will affect the neighborhood. Others are simply sad to see a longtime business gone.
  "It's sad because I would go there with my brother when I was younger," said senior Reta Haddad. "But it's not that bad. [the gas station] would be really decent since it would be close, but there might be more traffic."
  Family Video was a video rental store that occupied the corner of 45th and Colfax for fourteen years. However, due to the digital accessibility of movies and television shows on media-services providers like Netflix and Hulu plus a competing Family Video further down 45th St. in Highland, the store shut it doors for good. Despite the change in zoning from B-1 to B-3, building requirements will not change, and if Family Express should sell the property, the zoning change would follow. Family Express is free to purchase the properties of three Family Videos also on the road to closure.
About the Writer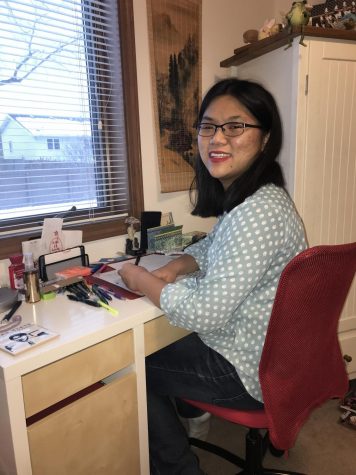 Liana Boulles, Copy Editor
Liana Boulles is a junior at Griffith High School and copy editor of the Panther Press. She has been on staff for three semesters. She enjoys writing and...