College Football Regular Season Ends, Bowls Begin
Hang on for a minute...we're trying to find some more stories you might like.
With the college football season ending a couple of weeks ago, it's now
time for bowl season and the college football playoffs. The final college
football playoff rankings were submitted by the bowl committee on
December 2, with the top four teams; Alabama Crimson Tide, Clemson
Tigers, Notre Dame Fightin' Irish, and the Oklahoma Sooners. College
football fans and analysts had mixed reactions towards the rankings.
The big speculation was who would get the number four spot between
Georgia, Ohio State, and Oklahoma as the top four teams in the country
get into the playoffs.
Sports columnists all over the country voiced their opinions for weeks
leading up to the final selection through their columns, while fans voiced
their opinions through twitter and other social media. Some people said
Georgia was more deserving after their hard-fought battle with Alabama
in the SEC championship game in which they were leading the best
team in the country for most of the game. They eventually ended up
losing a heartbreaker 35-28 to Alabama. Because Georgia had two
losses and didn't win their conference title game, the committee left
them out of the top four.
Ohio State had a roller coaster season starting when their head coach
Urban Meyer was suspended for the first three games of the year for
not reporting a sexual assault case that occurred with a coach on his
coaching staff. Then hot of the gate, Ohio State won their first seven
games before losing a heartbreaker to Purdue. Ohio State rebounded
well by winning the rest of their games and upsetting their bitter rival
Michigan to get themselves back into playoff consideration,. but the
committee decided a twenty-nine-point loss to Purdue just wasn't good
enough.
Oklahoma got the fourth spot and was well-deserving as their only
blemish on the season came by a three-point loss to Texas (48-45).
Oklahoma responded well by reaching the Big 12 conference title game
in which they received revenge on Texas by beating them 39-27. The
two main things that separated Oklahoma from Ohio State and Georgia
was that Oklahoma didn't have a 29 point loss to a 6-6 Purdue team,
and they didn't have two losses like Georgia. Plus, they were
conference champions.
Now onto the top three teams vying for a national title as they all spout
undefeated records heading into the playoffs. The first semi-final
matchup on December 29 at AT&T Stadium in Arlington, Texas is Notre
Dame and Clemson. Both of these teams are built very similarly as they both made quarterback changes in the middle of the season. Clemson's
junior quarterback Kelly Bryant was benched for a true freshman
quarterback Tyler Lawrence, and he lit up the scoreboard after getting
his shot and threw for 2606 yards and 24 touchdowns. As for Notre
Dame, junior quarterback Brandon Wimbush was benched in favor of
sophomore quarterback Ian Book. Book revamped an Irish offense after
squeaking by teams such as Vanderbilt and Ball State as they only won
by one possession in both of those games when they were heavy
favorites. Book then burst onto the scene in his first start by leading the
Irish offense to score 56 points on Wake Forest, and the Irish were
rolling from there. Book led the Irish to a perfect season for the second
time in six years.
Clemson and Notre Dame also boast very strong running games with
Clemson sophomore running back Travis Etienne having rushed for 21
touchdowns and Notre Dame senior running back Dexter WIlliams with
four 100 yard plus rushing games this season. Both teams also have
future NFL prospects on both of their defenses that can wreck havoc in
the backfield and make big-time plays. Some experts believe Clemson
will win easily against the Irish, but on paper, these two teams stack up
very evenly against one another making for a very competitive and
exciting game down to the final second.
The second semi-final game is between Alabama and Oklahoma who
are both coming off conference title wins. Alabama has been dominant
all season once again as they've blown out all twelve regular-season
opponents they've faced with their only close game being the
conference title game against Georgia. Heisman candidate and
sophomore quarterback Tua Tagovailoa has led the Crimson Tide to a
masterful season and has them vying for their second straight national
title. Alabama has future NFL stars all over their defense, as they lead
all of college football in forcing turnovers. Oklahoma has a Heisman
candidate of their own at quarterback named Kyler Murray, who is a
sophomore, and has put up historic numbers in his first season as
Oklahoma's starting quarterback. Murray came into the season
replacing former Heisman trophy winner and former first overall pick in
the NFL draft, Baker Mayfield. Murray has over 4000 yards passing and
40 touchdowns this season and is the favorite to win the Heisman
trophy. Oklahoma has been sketchy on the defensive side of the ball all
season but their offense ranks number one in the nation. If Oklahoma
has any' hope of reaching the title game and beating the number one
team in the country, they are going to need their high-powered offense
carry the load.
About the Writer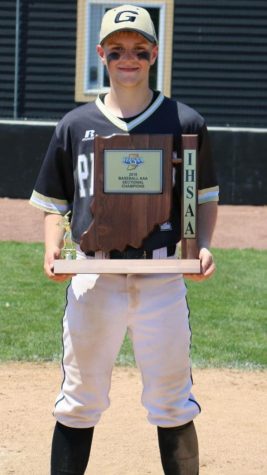 Andrew Braddy, Reporter
Andrew Braddy is a senior at Griffith High School and this is his sixth semester being on staff. Andrew enjoys writing sports stories and wants to be a...