Basketball Team Welcomes New Seniors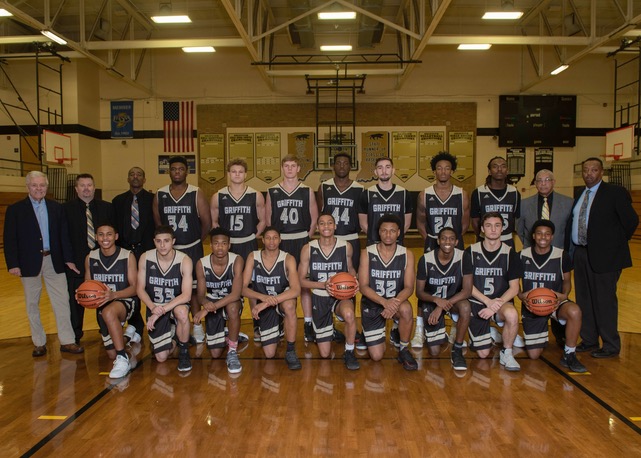 Victoria Martinez, Reporter
February 8, 2019
The boys' basketball season started in mid-November, but for the seniors on the team, this is their last. This year, Griffith has had a few new senior members added to their varsity team.
Senior Bubba Davenport is a football, baseball, and newfound basketball player at Griffith High School. He decided to try out for the basketball team because his best friend, senior Kyle Iwinski, along with other teammates convinced him to. Davenport felt excited when he found out that he made the team. "I was amazed that the coaches saw potential in me," said Davenport. He enjoys playing the sport and sharing the court with his teammates. An accomplishment for Davenport is the fact that he has started games his first year.
Another senior new to the varsity team is AJ Wright. Wright is a baseball as well as a basketball player. He played basketball his freshman and sophomore year and has now returned to the sport. "I decided that I wanted to stay conditioned and in shape for baseball, and I missed basketball when I took a break from it last year," said Wright. His fellow teammate, senior Craig Gordon, convinced him to come back to the team. On days when he doesn't feel up to practice, he enjoys his teammates ability to make it amusing. Wright's favorite memory is when the team beat Crown Point, and they jumped on the lockers to celebrate and senior Anthony Lane made a dent in one of the lockers.
Lane is a senior who has played basketball through his high school years, but this is his first year on varsity. "It feels great making varsity, and it feels good to actually play for something when the season is over," said Lane. He enjoys everything about the sport. Lane has always enjoyed watching, playing, and even listening to basketball growing up. He looks forward to improving his skills at practices. He also looks forward to game days to see the outcome of the teams hard work.
Senior Dekari Graham is not only new to the team but also to the school. This is his first year playing on a varsity team. Graham played basketball at Homewood-Flossmoor before he came to Griffith. His favorite basketball memory is when he hit the game winning shot for his team. One of his accomplishments in basketball is scoring 30 points in a game.
Another player that is new to the team and school is senior Corey Landers. He has played varsity basketball for four years. Landers played ball at Bishop Noll before coming to Griffith. "One of my accomplishments in basketball is when my seventh grade AAU team was ranked in the nation," said Landers. His favorite memory is when he won MVP at 11 years old. He enjoys the game of basketball and the atmosphere of the team.
Their final home game, which will also be their senior night, will be on Saturday, February 9.