College Commits: Callie Linders
Callie Linders is heading to Sheboygan, Wisconsin to attend Lakeland University. Here she will be playing softball at the Division 3 level. Callie chose Lakeland due to its size, location, and academics. "Lakeland is a small school that's located 30 minutes away from Lake Michigan. Since it's a D3 school, academics are extremely important to everyone there."
Her other reasoning for attending is thanks to the academic diversity within the school. "We have multiple different majors and programs that allow students to learn about what they're majoring in and allow them to dive deeper into topics they strive to learn more about. They also have a cooperative learning program, which allows students to work with big companies nearby that deal with aspects for their major."
Callie began playing the sport she is committed to Lakeland for, Softball, thanks to her sisters. "I play softball because I grew up watching my sisters play. A lot of people in my family play so I was shooed in to play once I came of age."
Her passion and love for the sport came from her talent. "I  fell in love with it once I realized I was actually pretty good at it. I love the challenges softball provides and the rewards you get from it."
Not only that, but Linders is also encouraged by the spectators. "I also play for all the younger girls who watch my games. I hope to be a good example and role model for them to look up to as they continue to play me grow in the sport as well."
Callie also has aspirations for herself at Lakeland. "I hope to play all four years at Lakeland and created with both my coaches and my teammates." Academically, Linders also has big plans. "With my major, I plan on going to grad school for Marine Biology in hopes to become a Marine Biologist. I plan to help with the conservation of our oceans and the animals and other organisms living in it."
As Callie enters the next stage of her life, we wish her the best of luck!
Leave a Comment
About the Contributor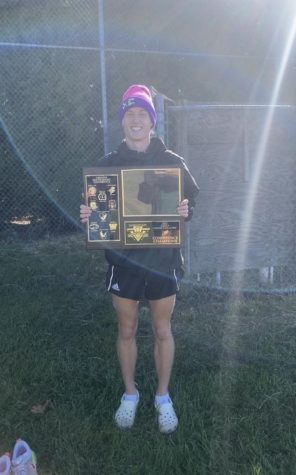 Joseph LaPatra, Reporter, Editer
Joey is a junior and this is his third year writing for Panther Press. He is active in Cross Country and Track.  He is an avid sports watcher, writer,...