Valentine's Day: Day of Love or Hallmark Holiday?
Hang on for a minute...we're trying to find some more stories you might like.
   Chocolates, roses, and teddy bears; these are just a few things gifted to loved ones on Valentine's Day. The infamous Valentine's Day is celebrated ever year on February 14. Some will criticize the day as a Hallmark holiday, others will say its a day of celebration for love.
   Pro
    For one day out of 365, we can celebrate and truly love the ones around us. Whether it be one's significant other, family, or friends, they can take one day to show them they are loved in whatever way they may choose. Valentine's Day can be used to express and share how one feels. 
   "I love the concept of the day being used to express love towards someone. I appreciate the fact that my mom gets me a gift every year," said junior Olivia Halley.
   If single, one can go out with a group of friends and celebrate with people who have always been by their side. If lucky enough to be in a relationship, one has the opportunity to spoil their significant other. Spoiling doesn't have to be in monetary value, but purchasing flowers, candy, jewelry, bears, or whatever else it is that one wishes to buy can always be an option to keep one's partner happy. 
   After all the chaos, perhaps the best perk of Valentine's Day is the day after. Shelves with Valentine's merchandise are marked half off, making candy cheap but still high quality. 
   Con 
    The expectations can be too much. There is a slim to none chance that one can get away with not giving their significant other a gift. Gift giving can be emotionally taxing given the weight it carries. If the gift one gives to their significant other is terrible, their significant other will tell their friends and will more than likely be upset. 
   "I don't believe that gifts should be highly expected, but it is the thought that counts," said senior Anthony Lane. 
   The abundance of pink is annoying. There are about 50 different shades of pink worn on this holiday. It's as if there's no other color that can be worn. 
   Being single isn't the greatest on Valentine's Day. If one finds themself single, it's better celebrate with other singles. The happy, loving couples flaunt their devotion to one another and it can be just as annoying as the color pink. 
About the Writer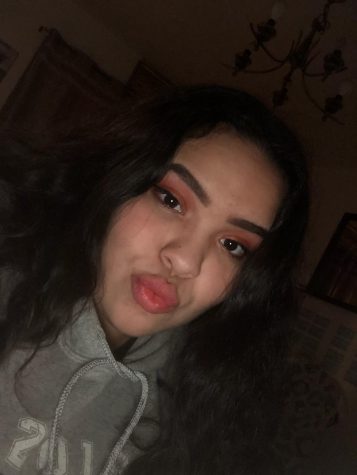 Victoria Martinez, Reporter
Victoria Martinez is a senior at Griffith High School. This is her 7th semester on staff. She enjoys being on staff because she enjoys bonding with her...